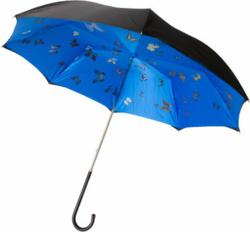 London, UK (PRWEB) April 02, 2012
In celebration of Damien Hirst's upcoming retrospective exhibition at London's Tate Modern, Quintessentially Gifts are featuring an exclusive range of Damien Hirst's artful objects from butterfly print beach towels to chinaware.
The collection references Hirst's most famous works, showcasing views on 21st century society, from cufflinks in the shape of pills to 'pharmaceutical' wallpaper. Hirst also puts the famous signature on butterfly print umbrellas, spot skateboards and a cashmere blanket that incorporates graphics from Hirst's New Religion series.
Damien Hirst first came to public attention in 1988 when the artist conceived and curated Freeze, an exhibition in a disused London warehouse where he first showcased his work, along with friends and fellow students from Goldsmiths College. Nearly a quarter of a century after that pivotal show, Hirst has since become a monumental figure in the contemporary art world, with work often fetching record-breaking prices at auction.
Quintessentially Gifts' e-boutique will feature Damien Hirst for Other Criteria objects for purchase during the course of The Tate's exhibition: 4th April – 9th September 2012.
To shop the collection click: http://www.quintessentiallygifts.com/search/brand/71/
For all of Quintessentially Gifts' latest loves and international designer finds, follow the new Quintessentially Gifts blog: http://blog.quintessentiallygifts.com
Visit Quintessentially Gifts to order online or for specialist advice call + 44 (0) 845 224 2617
For all media enquiries please contact Alex Allason on alex.allason(at)quintessentiallycommunications(dot)com / P: +44 (0) 20 3073 6752
About the Company
Quintessentially Gifts, specialists in luxury and bespoke gifts, is part of the Quintessentially Group. Quintessentially Gifts has offices in London, Oslo and Geneva. Quintessentially is a private members club with a global concierge service. Available 24 hours a day, 365 days a year, our expert fixers are always on hand to aid and assist our members – whether it be sourcing tickets to much anticipated sporting events, providing access to the hottest gigs in town, securing last minute hotel bookings and travel deals, or simply making restaurant reservations. What's more, a Quintessentially membership provides unlimited access to an unrivalled package of privileges, preferential rates and bespoke services - therefore not only saving our members time, but also money. In recent years, Quintessentially has undergone a rapid expansion - from the original concierge concept - into a global luxury lifestyle group, with a portfolio of businesses encompassing property, events, wine and art consultancy. With 65 offices worldwide and further plans for Amsterdam, Auckland, Chicago, Kuala Lumpur, Luxembourg and more this year, Quintessentially has quickly become a global support system for its members, wherever they may be.