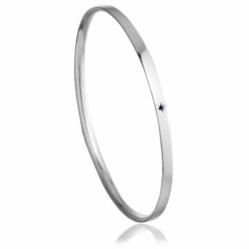 London, UK (PRWEB) September 05, 2012
Quintessentially Gifts name their top five favourite silver jewellery pieces to complete an outfit.
Astley Clarke Silver Halo Bangle, £125
Keeping it simple is sometimes always best. With celebrity fans of the brand including Nicole Kidman, Claudia Schiffer and Elle Macpherson, an Astley Clarke silver bangle is an essential. This bracelet is made from brushed sterling silver and features a continuous loop of sterling silver with a star set lapis lazuli.
Damien Hirst Pill Cufflinks, £250
Add artwork to a suit with these bespoke pill cufflinks from Damien Hirst. They are engraved with the Hirst/Hirst logo and are hallmarked. The cufflinks are presented in a glossy black wooden box which is stamped with the Hirst logo inside. These are a fantastic finish to that designer suit.
Stephen Webster Superstud Muse Earrings, £350
Want to wear something a bit different. These earrings from renowned designer Stephen Webster are unique as a pair of silver hoop earrings, rhodium plated and with gold plated fringes. No one will be looking at that dress!
Catherine Zoraida Silver Apple Twig Cuff with Diamonds, £395
Make sure that best friend is with someone at a special event – diamonds! This elegant silver apple twig cuff, studded with diamonds is the perfect frosting to an exquisite evening gown.
Jade Jagger Silver Skull Rosary, £1,316
For that low cut design, this silver skull rosary is the perfect addition, made of silver skulls and very popular now in Ibiza due to its famous designer.
For all of Quintessentially Gifts' latest loves and international designer finds, follow the new Quintessentially Gifts blog: http://blog.quintessentiallygifts.com/.
Visit Quintessentially Gifts to order online or for specialist advice call + 44 (0) 845 224 2617
For all media enquiries please contact communication (at) quintessetially (dot) com / P: +44 (0)203 073 6752
About the Company:
Quintessentially Gifts, specialists in luxury and bespoke gifts, is part of the Quintessentially Group. Quintessentially Gifts has offices in London, Oslo and Geneva. Quintessentially is a private members club with a global concierge service. Available 24 hours a day, 365 days a year, our expert fixers are always on hand to aid and assist our members – whether it be sourcing tickets to much anticipated sporting events, providing access to the hottest gigs in town, securing last minute hotel bookings and travel deals, or simply making restaurant reservations. What's more, a Quintessentially membership provides unlimited access to an unrivalled package of privileges, preferential rates and bespoke services - therefore not only saving our members time, but also money. In recent years, Quintessentially has undergone a rapid expansion - from the original concierge concept - into a global luxury lifestyle group, with a portfolio of businesses encompassing property, events, wine and art consultancy. With 65 offices worldwide and further plans for Amsterdam, Auckland, Chicago, Kuala Lumpur, Luxembourg and more this year, Quintessentially has quickly become a global support system for its members, wherever they may be.