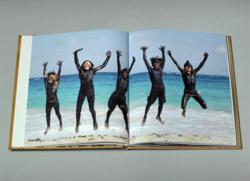 London, UK (PRWEB) December 19, 2011
What does someone get the woman who has everything? Quintessentially Gifts think something personal would be nice, and therefore describe the top 5 presents they would give her, from the everyday to the extravagant.
Celebrate with A Book Of Memories from Rory Carnegie – POA
Marking a special occasion whether it be an anniversary or birthday is always nice to celebrate with photos. With the Royal Family expanding every day, Quintessentially Gifts think having this famous family and their home photographed would be treasured for a lifetime. These photographs would then be bound in a beautifully designed book and looked back on years to come.
Celebrate with a Hermès Kelly Bag – GBP 9,500
She's rarely seen without an elegant handbag on her arm, so Quintessentially Gifts want to give her a new one, exclusively designed for her Diamond Jubilee? For that graceful little lady, the Classic Kelly is a must, and whether it is in Clemence Taurillon, Epsom or Togo leather, Quintessentially Gifts can make sure that famous orange box will be waiting at her door in the morning.
Celebrate with a Williams British Handmade Travelling Trunk – GBP 8,500
With the news that the Queen will be travelling the UK in 2012 as part of her Jubilee, is it a good idea to get her some new luggage? The Williams British Handmade Travelling Trunk is perfect for holding all her little accessories, and it British through and through. Williams British Handmade also offers a bespoke service tailored to each client's preferred dimensions, colours and finishes, so something designed specifically for the Jubilee would be seamless.
Celebrate with Moser Bar Glassware – GBP 370
The Queen's favourite drink previously remained a closely guarded secret, so what is it? Well, she likes to enjoy a glass of Dubonnet immediately before lunch every day. Therefore, Quintessentially Gifts think a fresh and quirky set of barware glasses would be perfect for the palace. Moser is one of the Czech Republic's finest historic glass companies and with these different coloured drinking glasses they are sure to inject a shot of pure glamour to a cocktail or dinner party.
Celebrate with Quintessentially Flowers Shocking Pink Roses – GBP 75
Sometimes the best gifts are those that are the thought provoking ones. It is a well-known fact that the Queen's favourite flowers are pink roses, so Quintessentially Gifts think an exceptional pink bouquet full of Milano roses, Esperance roses and piano spray roses with add a smile to the Queen's face and some colour to the palace itself.
For all of Quintessentially Gifts' latest loves and international designer finds, follow the new Quintessentially Gifts blog: http://blog.quintessentiallygifts.com/.
Visit http://www.quintessentiallygifts.com to order online or for specialist advice call + 44 (0) 845 224 2617
For all media enquiries please contact Katrina Israel on E: Katrina(at)quintessentiallygifts(dot)com / P: +44 (0)845 224 2617 ext 6668
About the Company:
Quintessentially Gifts, specialists in luxury and bespoke gifts, is part of the Quintessentially Group. Quintessentially Gifts has offices in London, Oslo and Geneva. Quintessentially is a private members club with a global concierge service. Available 24 hours a day, 365 days a year, our expert fixers are always on hand to aid and assist our members – whether it be sourcing tickets to much anticipated sporting events, providing access to the hottest gigs in town, securing last minute hotel bookings and travel deals, or simply making restaurant reservations. What's more, a Quintessentially membership provides unlimited access to an unrivalled package of privileges, preferential rates and bespoke services - therefore not only saving our members time, but also money. In recent years, Quintessentially has undergone a rapid expansion - from the original concierge concept - into a global luxury lifestyle group, with a portfolio of businesses encompassing property, events, wine and art consultancy. With 65 offices worldwide and further plans for Amsterdam, Auckland, Chicago, Kuala Lumpur, Luxembourg and more this year, Quintessentially has quickly become a global support system for its members, wherever they may be.
###