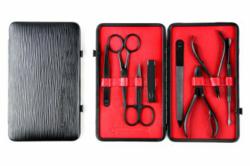 London, UK (PRWEB) April 18, 2012
Whether someone's father is old school or a modern day man, Quintessentially Gifts have a great selection of products that aim to please any dad this year, from classic Linley wine carafes to Moshi Moshi/Native Union Pop Phones.
1. Moshi Moshi/Native Union Blue Pop Phone, £25
2. Czech & Speake Black & Red Limited-Edition Manicure Set, £336
3. Linley Captain's Decanter, £365
4. Mark/Giusti Milano Handmade Leather Laptop Bag, £800
5. Handcrafted Geoffrey Parker Boules In A Basket (Bespoke Commissions also possible), £835
6. Classically Elegant Stjx B-Ball Manao Umbrella, £900
7. Taschen Jazzlife: Collector's Edition, £1,250
8. Alexandra Llewellyn Design Pheasant Backgammon Board, £2,100
9. David Linley Gentleman's Shooting Companion, £3,500
10. Circa 1930's Silver Plated Vintage Dunhill Crocodile Table Lighters from £5,400
11. Geoffrey Parker Garden Games Compendium, £5,650
12. Theo Fennell Sterling Silver USA Rocket Tequila Shot Set, POA
For all of Quintessentially Gifts' latest loves and international designer finds, follow the new Quintessentially Gifts blog: http://blog.quintessentiallygifts.com/
Visit http://www.quintessentiallygifts.com to order online or for specialist advice call + 44 (0) 845 224 2617
For all media enquiries please contact Alex Allason on alex.allason@quintessentiallycommunications.com / P: +44 (0) 20 3073 6752
About the Company:
Quintessentially Gifts, specialists in luxury and bespoke gifts, is part of the Quintessentially Group. Quintessentially Gifts has offices in London, Oslo and Geneva. Quintessentially is a private members club with a global concierge service. Available 24 hours a day, 365 days a year, our expert fixers are always on hand to aid and assist our members – whether it be sourcing tickets to much anticipated sporting events, providing access to the hottest gigs in town, securing last minute hotel bookings and travel deals, or simply making restaurant reservations. What's more, a Quintessentially membership provides unlimited access to an unrivalled package of privileges, preferential rates and bespoke services - therefore not only saving our members time, but also money. In recent years, Quintessentially has undergone a rapid expansion - from the original concierge concept - into a global luxury lifestyle group, with a portfolio of businesses encompassing property, events, wine and art consultancy. With 65 offices worldwide and further plans for Amsterdam, Auckland, Chicago, Kuala Lumpur, Luxembourg and more this year, Quintessentially has quickly become a global support system for its members, wherever they may be.