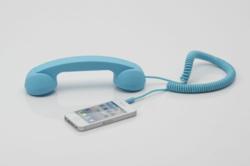 London, UK (PRWEB) July 12, 2012
Quintessentially Gifts suggest their top graduation gifts to congratulate a university graduate with this year.
Moshi Moshi Sky Blue Pop Phone, £25
This pop phone is a fashionable tech accessory and therefore great for the current generation of graduates. For keeping in touch with university friends it is perfect for Skype and will connect to most mobile devices.
Sloane Stationery The Big Black Notebook, £61
The writing doesn't stop at university, think of all those meetings that a graduate will attend when they enter work life. So do it in style with this hand-made Big Black Book bound in a lustrous black crocodile print leather and a signature Sloane Stationery ribbon as a page marker.
Zara Simon Clove Pendant, £320
Jewellery that has sentimental value is very important to a young girl, from a family heirloom to that future engagement ring. For their graduation something special like this Clover Pendant, crafted from gold vermeil with rose quartz petals and an amethyst centre is the perfect addition to that graduation dress.
Globetrotter 18" Safari Air Cabin Case in Ivory & Natural, £660
Are they taking a break between university and finding a job? If so the perfect gift would be a distinguished suitcase made by Globe-Trotter, available in ivory and colonial brown and is furnished with superior non-dyed natural leather corners and belts.
For all of Quintessentially Gifts' latest loves and international designer finds, follow the new Quintessentially Gifts blog: http://blog.quintessentiallygifts.com/.
Visit Quintessentially Gifts' website to order online or for specialist advice call + 44 (0) 845 224 2617
For all media enquiries please contact communication (at) quintessetially (dot) com / P: +44 (0)203 073 6752
About the Company:
Quintessentially Gifts, specialists in luxury and bespoke gifts, is part of the Quintessentially Group. Quintessentially Gifts has offices in London, Oslo and Geneva. Quintessentially is a private members club with a global concierge service. Available 24 hours a day, 365 days a year, our expert fixers are always on hand to aid and assist our members – whether it be sourcing tickets to much anticipated sporting events, providing access to the hottest gigs in town, securing last minute hotel bookings and travel deals, or simply making restaurant reservations. What's more, a Quintessentially membership provides unlimited access to an unrivalled package of privileges, preferential rates and bespoke services - therefore not only saving our members time, but also money. In recent years, Quintessentially has undergone a rapid expansion - from the original concierge concept - into a global luxury lifestyle group, with a portfolio of businesses encompassing property, events, wine and art consultancy. With 65 offices worldwide and further plans for Amsterdam, Auckland, Chicago, Kuala Lumpur, Luxembourg and more this year, Quintessentially has quickly become a global support system for its members, wherever they may be.