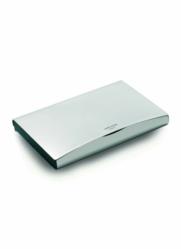 London, UK (PRWEB) February 21, 2012
Quintessentially Gifts provide a sneak preview into some of the modern day designers they love and why other people should love them too.
Quintessentially Gifts Love….Georg Jensen
On the books at Quintessentially Gifts at the moment is Georg Jensen, a hot designer in homes and for fashion accessories at the moment. There are some very cool designs coming out from this designer ranging from the Pebbles Salt and Pepper set (GBP 49) and Konno Cardholder (GBP 36) to the beautiful Regitze collar and bracelet set (GBP 955 for the bracelet and GBP 2,050) that should be gracing the catwalk.
Quintessentially Gifts Love….Hermès
From one of most luxurious gift companies comes one of the most beautiful bags to come out of France, the classic Hermès bag collection. A statement piece for any outfit, the Birkin, Constance and Kelly are all perfect pairings with an outfit, whether someone wants a classic design or a chic and funky design.
Quintessentially Gifts can find the perfect style and colour for anyone no matter what they are wearing.
Quintessentially Gifts Love….Olivier Baby
With Victoria Beckham at LFW, everyone knows people's eye will be on Harper, so what will make her look that little bit funkier? Olivier Baby has a very chic collection of clothes including some very cut cardigans in various colours (GBP 69) to some pretty dresses (GBP 79) that will make them fashion icons themselves.
Quintessentially Gifts Love….Safor
Definitely a favourite to match with eveningwear no matter how understated or out there someone wants it to be. The Susan Lizard Skin Clutch (GBP 175) would look fantastic paired with an outfit for a casual dinner, or why not dress up that LBD with a bold statement in the form of an Evelyn Clutch (GBP 170-200).
Quintessentially Gifts Love….Hayley Menzies
Still stuck on ideas for how to top off that outfit for the evening? Hayley Menzies is the answer. From the Ahyoka Shawl with Feather trim (GBP 170) to the Chelsea Scarf (GBP 200), one of these designs promise to make an outfit an eye-turner.
For all of Quintessentially Gifts' latest loves and international designer finds, follow the new Quintessentially Gifts blog: http://blog.quintessentiallygifts.com/.
Visit http://www.quintessentiallygifts.com to order online or for specialist advice call + 44 (0) 845 224 2617
For all media enquiries please contact Katrina Israel on E: Katrina (at) quintessentiallygifts (dot) com / P: +44 (0)845 224 2617 ext 6668
About the Company:
Quintessentially Gifts, specialists in luxury and bespoke gifts, is part of the Quintessentially Group. Quintessentially Gifts has offices in London, Oslo and Geneva. Quintessentially is a private members club with a global concierge service. Available 24 hours a day, 365 days a year, our expert fixers are always on hand to aid and assist our members – whether it be sourcing tickets to much anticipated sporting events, providing access to the hottest gigs in town, securing last minute hotel bookings and travel deals, or simply making restaurant reservations. What's more, a Quintessentially membership provides unlimited access to an unrivalled package of privileges, preferential rates and bespoke services - therefore not only saving our members time, but also money. In recent years, Quintessentially has undergone a rapid expansion - from the original concierge concept - into a global luxury lifestyle group, with a portfolio of businesses encompassing property, events, wine and art consultancy. With 65 offices worldwide and further plans for Amsterdam, Auckland, Chicago, Kuala Lumpur, Luxembourg and more this year, Quintessentially has quickly become a global support system for its members, wherever they may be.
###