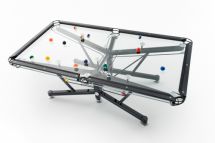 London, UK (PRWEB) November 29, 2011
Under the Christmas tree lies the perfect perfume for mum, a beautiful silk scarf for grandma and a selection of board games and books for the children, however, the question is will they love it or hate it? Quintessentially Gifts list some presents this Christmas that are suitable for different tastes.
Love it or Hate it….Nottage Design G1 Glass Pool Table - GBP 42,000
Men can sometimes be the hardest creatures to buy for, but when it comes to games anything goes. Men, no matter how old, are still children at heart, so why not buy him the ultimate in modern games alongside state of the art technology, the Nottage Design G1 Glass Pool Table. Depending on the man's tastes, they can also offer a fully customized bespoke service to match all tastes and interiors.
Lead time is approximately 12 weeks from order.
Love it or Hate it….Orange Opal Bow Earrings - GBP 7,475
Some serious jewellery collectors may love these original orange opal bow earrings, created by My Passion for Jewellery. They are a show stopper with rare orange opals and 0.95 carat diamonds set in 18 carat white and gold earrings. Maybe they are not for everyone's tastes? If this is the case, know that bespoke capabilities are offered for this style if it is a present someone truly wants to love.
Love it or Hate it….Bespoke Trivial Pursuit - GBP 2,345
Going to the relatives for Christmas? Buy them something that everyone can enjoy, and what's more fun than a board game after that coma reduced Christmas lunch. The Bespoke Trivial Pursuit board game from Geoffrey Parker is perfect as a true eighties icon. This luxury version will last for many Christmases to come, hand inlaid in dauphin calf leather and embossed in the choice of gold or silver.
Love it or Hate it….Nika Zupanc Konstantin B Aluminium Toy Car - GBP 886
The energy that comes from children at Christmas is constant, so put it to good use and buy them a Nika Zupanc Konstantin B Aluminium Toy Car, something for Christmas that can also be something for life. This charming toy harks back to the day of handmade wooden toys, rather than one-play mounds of plastic, meaning it is something that can be passed down for generations, a brilliant investment.
Love it or Hate it….QMS Mediocosmetics Gift Sets
Gift Sets are the typical present someone will get every year when a relative or friend is lost with what to get them. So why not make it more interesting? If buying for a man, maybe the sport set for the face and body (GBP 182) is the perfect idea, or to make that female friend feel younger get her the Pearl Touch Set (GBP 657).
For all of Quintessentially Gifts' latest loves and international designer finds, follow the new Quintessentially Gifts blog: http://blog.quintessentiallygifts.com/.
Visit Quintessentially Gifts to order online or for specialist advice call + 44 (0) 845 224 2617
For all media enquiries please contact Susannah Grant on susannah.grant@quintessentially.com / P: +44 (0) 20 3073 6725
About the Company:
Quintessentially Gifts, specialists in luxury and bespoke gifts, is part of the Quintessentially Group. Quintessentially Gifts has offices in London, Oslo and Geneva. Quintessentially is a private members club with a global concierge service. Available 24 hours a day, 365 days a year, our expert fixers are always on hand to aid and assist our members – whether it be sourcing tickets to much anticipated sporting events, providing access to the hottest gigs in town, securing last minute hotel bookings and travel deals, or simply making restaurant reservations. What's more, a Quintessentially membership provides unlimited access to an unrivalled package of privileges, preferential rates and bespoke services - therefore not only saving our members time, but also money. In recent years, Quintessentially has undergone a rapid expansion - from the original concierge concept - into a global luxury lifestyle group, with a portfolio of businesses encompassing property, events, wine and art consultancy. With 65 offices worldwide and further plans for Amsterdam, Auckland, Chicago, Kuala Lumpur, Luxembourg and more this year, Quintessentially has quickly become a global support system for its members, wherever they may be.
###