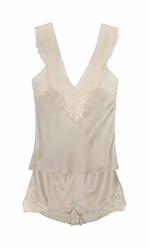 London, UK (PRWEB) April 27, 2012
For a wedding that stands out from any other, Quintessentially Gifts have put together some ideas for couples who want a tailor-made wedding list.
Honeymoon Wishes
Organising a honeymoon is very exciting – especially with it being the most extraordinary holiday a couple will ever go on. So make it special from start to finish.
1.Alöe Mink Silk Chiffon Playsuit, £175
2. Alöe Ivory Silk Cami & Short Set, £230
3. Globe-trotter 30" Centenary Cruise Suit Case with Wheels, £1,015
4. Globe-trotter 33" Orient Suit Case with Wheels, £1,710
5. Quintessentially Travel Maldives: The Ultimate Rewind, £6,195
Dinner Party Desires
As newlyweds is it that first dinner party? Put those wedding list ideas to use and think about dinnerware and tableware that will be needed.
1. Georg Jensen Forma Cheeseboard, £97
2. Georg Jensen Cobra 3 Piece Candlestick Set, £150
3. Georg Jensen Cocktail Set Champagne Cooler, £190
4. Moser Liquer Glass Set of Six, £210
5. Linley Captain's Decanter, £485
Dream Home Interiors
Newlyweds should always consider the items they will need for that love nest from picture frames to the everyday essentials. What can Quintessentially Gifts offer?
1. Katharine Pooley Ivory Shagreen Brickwork Picture Frame, £239
2. Lladró Metropolis Collection Lamp, £360
3. Chris Beetles Fine Photographs Brian Duffy: 'Love', Children's Fashion for 'Queen', 1968, £1,600
4. Katharine Pooley Coyote Fur Throw, £5,995
5. Rory Carnegie Books A Book of Your Memories, POA
For all of Quintessentially Gifts' latest loves and international designer finds, follow the new Quintessentially Gifts blog: http://blog.quintessentiallygifts.com/.
Visit Quintessentially Gifts to order online or for specialist advice call + 44 (0) 845 224 2617
For all media enquiries please contact Alex Allason on E: alex(dot)allason(at)Quintessentially(dot)com / P: +44 (0)203 073 6752
About the Company:
Quintessentially Gifts, specialists in luxury and bespoke gifts, is part of the Quintessentially Group. Quintessentially Gifts has offices in London, Oslo and Geneva. Quintessentially is a private members club with a global concierge service. Available 24 hours a day, 365 days a year, our expert fixers are always on hand to aid and assist our members – whether it be sourcing tickets to much anticipated sporting events, providing access to the hottest gigs in town, securing last minute hotel bookings and travel deals, or simply making restaurant reservations. What's more, a Quintessentially membership provides unlimited access to an unrivalled package of privileges, preferential rates and bespoke services - therefore not only saving our members time, but also money. In recent years, Quintessentially has undergone a rapid expansion - from the original concierge concept - into a global luxury lifestyle group, with a portfolio of businesses encompassing property, events, wine and art consultancy. With 65 offices worldwide and further plans for Amsterdam, Auckland, Chicago, Kuala Lumpur, Luxembourg and more this year, Quintessentially has quickly become a global support system for its members, wherever they may be.