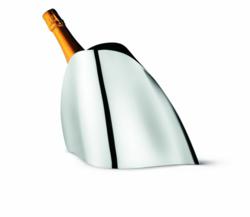 London, UK (PRWEB) July 05, 2012
Quintessentially Gifts suggest their top five items that one should take to Wimbledon this year:
Georg Jensen Cocktail Set Champagne Cooler, £190
Turn on the fizz this summer and keep that Lanson Champagne cool in a polished stainless steel champagne cooler by Georg Jensen. Its elliptical opening looks organic and the slant of the cooler holds the bottle at the perfect angle for easy removal and replacement. A great match with those strawberries and cream!
Damien Hirst/Other Criteria Butterfly Umbrella, £195
Beat the rain at Wimbledon this year with a fantastic looking umbrella. This Damien Hirst umbrella is bound to keep people's spirits up and their clothes dry – especially at Wimbledon where it is always bound to rain.
Oliver Goldsmith Vice Consul Sunglasses, £275
Want the latest pair of sunglasses to fashion at the tennis this year? Oliver Goldsmith's Vice Consul Sunglasses will give anyone an advantage. These Vice Consul sunglasses were originally created in 1959 as a smaller version of its big brother, the Consul and have most recently featured on Nicholas Hoult in the Tom Ford film A Single Man.
Stjx Green Leather Travel Bag, £1,620
No tennis player is ever without their sporting bag so why not compete and take a STJX Leather Travel Bag – perfect for carrying goodies up on to Murray Mound / Henman Hill.
For all of Quintessentially Gifts' latest loves and international designer finds, follow the new Quintessentially Gifts blog: http://blog.quintessentiallygifts.com/.
Visit Quintessentially Gifts to order online or for specialist advice call + 44 (0) 845 224 2617
For all media enquiries please contact communication(at)quintessetially(dot)com / P: +44 (0)203 073 6752
About the Company:
Quintessentially Gifts, specialists in luxury and bespoke gifts, is part of the Quintessentially Group. Quintessentially Gifts has offices in London, Oslo and Geneva. Quintessentially is a private members club with a global concierge service. Available 24 hours a day, 365 days a year, our expert fixers are always on hand to aid and assist our members – whether it be sourcing tickets to much anticipated sporting events, providing access to the hottest gigs in town, securing last minute hotel bookings and travel deals, or simply making restaurant reservations. What's more, a Quintessentially membership provides unlimited access to an unrivalled package of privileges, preferential rates and bespoke services - therefore not only saving our members time, but also money. In recent years, Quintessentially has undergone a rapid expansion - from the original concierge concept - into a global luxury lifestyle group, with a portfolio of businesses encompassing property, events, wine and art consultancy. With 65 offices worldwide and further plans for Amsterdam, Auckland, Chicago, Kuala Lumpur, Luxembourg and more this year, Quintessentially has quickly become a global support system for its members, wherever they may be.