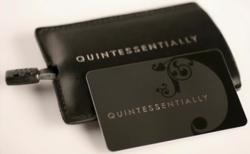 London, UK (PRWEB) April 27, 2012
Quintessentially is the passport to the very best life has to offer, so spend that well earn retirement money on some fantastic adventures with the luxury lifestyle brand.
Live the Dream: Become a Member
Dreamed of becoming a member of an exclusive private member's club? Use that well earnt retirement money to spend on a membership. This membership will make life more manageable and help someone to realise what they would enjoy spending their money on. From spending many evenings enjoying the Michelin star food of world famous chefs to pampering oneself in some of the most pristine hotels around, Quintessentially Lifestyle can organise everything. For pleasure over business, a dedicated Lifestyle Manager will be on hand 24/7 to make sure everything is catered to a member's preferred level.
Live the Dream: Become a Globetrotter
After seeing the inside of an office for 50+ years, it is probably now time to see the world and its wonders. From the beaches of Barbados to the rolling hills of Tuscany, Quintessentially Travel will become a best friend, travelling side by side with someone as they venture into the next chapter of their life. For thrill seekers Quintessentially Escape can organise ice driving in Scandinavia to spy missions across the desert, or if the idea of sitting in a hammock in the grounds of a stunning villa sounds like heaven, Quintessentially Villas can organise this.
Live the Dream: Make an Investment
An investment can be anything from starting a wine cellar, an art collection or even buying a property to enjoy with the family.Quintessentially Wine can help someone create a cellar full to the brim with wines that are bursting with flavours; whilst Quintessentially Art can grasp someone's artistic preferences and build up a collection someone would die for.
Live the Dream: Have a Party
After 50+ years of hard work it's finally time to kick back and open new doors. There has to be a party, and it has to be big! Quintessentially Events can organize the biggest party ever to say goodbye to years of stress and sweat and hello to adventure and relaxation. The team can make sure the food is to the highest standards, the booze is flowing and the music and entertainment keeps the guests going all night.
Live the Dream: Meet Someone New
Has years in the office meant missing out on finding someone to share life with? Quiverz- Quintessentially's exclusive dating and networking site can find someone's like minded match who someone will enjoy travelling, dining and generally having fun with for the whole of one's retirement.
For all press enquiries regarding Quintessentially, please contact: Susannah Grant T: +44 (0) 203 073 6605 / E: susannah(dot)grant(at)quintessentially(dot)com
About the Company:
Quintessentially (http://www.quintessentially.com) is the leading international luxury lifestyle company. Started in 2000 as a small London based concierge service, Quintessentially has experienced a complete transformation in a decade, and currently have offices in over 64 cities around the world. The service provided to their discerning and HNW members is proactive and personalised, catering to every member's need, from last minute restaurant bookings, travel arrangements, and access to private parties, as well as fulfilling every unusual request and successfully connecting businesses all over the world. Quintessentially can offer access to the inaccessible and can make the seemingly impossible, possible. In a bid to ensure only the very best service is delivered across the luxury market, Quintessentially has also launched 32 luxury sister businesses comprised of experts in every luxury division. This includes real estate, travel, luxury retail, wine, art, flowers, private aviation and more (http://www.quintessentiallygroup.com).