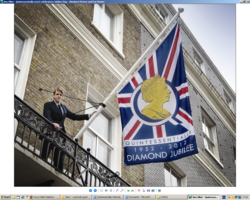 London, UK (PRWEB) May 24, 2012
Quintessentially Lifestyle, the luxury lifestyle concierge and members club, has noticed a sharp rise in the number of requests, from both their UK and international members, for flights, hotels, villas and chartered private jets over the Jubilee bank holiday weekend
Demand increased exponentially last week, with member's requests for jets and hotel reservations five times higher in comparison to the same periods in May 2010 and 2011.
A notable amount of Quintessentially Lifestyle's high net worth, UK-based, members are splitting the long weekend up; staying in London on the Friday and Saturday nights before jetting off on Sunday to warmer climes. The lacklustre weather of the past few weeks, in comparison to this time last year, has also had an influence with members snapping up last minute opportunities to rent prestigious villas along the Amalfi Coast, Marbella, St. Tropez and Ibiza or taking longer breaks and going further afield with requests for Quintessentially Lifestyle to build adventurous itineraries for trips to Costa Rica, Ecuador, Burma, Peru, Argentina, Beirut, Mozambique, Cambodia and Columbia.
In stark contrast, an unprecedented amount of Quintessentially Lifestyle international members are jetting into London to celebrate the Jubilee weekend and be part of this landmark, quintessentially-British occasion. A plethora of high-profile parties across the capital twinned with opportunities to take advantage of the high street sales and buy luxury items from the likes of Mulberry, Burberry, Hermes, Dunhill, Hublot and Cartier have been most popular with their Chinese, Russian and American members. Quintessentially Lifestyle's personal shopping offering, Quintessentially Gifts, has trebled the amount of personal shoppers available to service the increase of predominantly Chinese members requesting the service over the Jubilee period; taking advantage of the fact luxury goods can be up to 35% cheaper to purchase in the UK than domestically.
Ben Elliot, co-founder of Quintessentially Lifestyle, explains:
"To be honest the company always knew the spotlight would be on London this year and are well-prepared for it. There has been much conflicting opinion from the neigh-sayers and those that anticipated a busy year in 2012 but even Quintessentially Lifestyle have been taken aback by the sheer level of excitement from our Quintessentially Lifestyle members, in the UK and internationally, and interest in the services right across the group."
Ben Elliot was keen to stress that even though some British Quintessentially Lifestyle members are jetting off to warmer destinations the news is far from unpatriotic. Quintessentially's own jubilee party, which takes place on the bank of the Thames next to London Bridge, sold out in a record four minutes.
"Following the royal wedding celebrations last year it was obvious that the Jubilee was going to be special. The response from British members that are choosing to stay in the UK over the break and celebrate on the Thames; watching this once in a lifetime spectacular, is overwhelming. Quintessentially Lifestyle now have a waiting list for the Jubilee event and are working on ways to make it even bigger to cater to the number of guests that the company have been unable to accommodate. Twinned with the fact that there is a predicted heat wave this week, which will hopefully carry on into next, the company are even more positive about the Jubilee celebrations. Quintessentially always knew it - the UK really and truly does love the Queen"
For more information please contact Dan Alexis on E: Dan.Alexis(at)Quintessentially(dot)com / P: +44 (0)20 3073 6752
About the Company:
Quintessentially (http://www.quintessentially.com) is the leading international luxury lifestyle company. Started in 2000 as a small London based concierge service, Quintessentially has experienced a complete transformation in a decade, and currently have offices in over 60 cities around the world. The service provided to their discerning and HNW members is proactive and personalised, catering to every member's need, from last minute restaurant bookings, travel arrangements, and access to private parties, as well as fulfilling every unusual request and successfully connecting businesses all over the world. Quintessentially can offer access to the inaccessible and can make the seemingly impossible, possible. In a bid to ensure only the very best service is delivered across the luxury market, Quintessentially has also launched 32 luxury sister businesses comprised of experts in every luxury division. This includes real estate, travel, luxury retail, wine, art, flowers, private aviation and more (http://www.quintessentiallygroup.com).