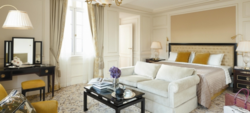 London, UK (PRWEB) August 29, 2012
Looking for a half term holiday? Looking for a short city break? Quintessentially Travel names the top 5 luxury hotels to journey to this autumn.
There is no beating the beauty of Paris this autumn. Wrap up warm and stroll along the Seine, start your Christmas shopping in the city's chic boutiques and venture to the Eiffel Tower for dinner, admiring the views of this historic city. Nestled in the 16th arrondissment of Paris is the stylish Shangri-La hotel which has stunning views of the Seine and the Eiffel Tower. After a day in the capital the experience continues at the hotel from savouring the delicate tastes of French cuisine at L'Abeille or swimming in the largest indoor swimming pool with natural day-light in Paris.
From its fabulous views across the city and its enchanting castle, Edinburgh is not a city that should be missed. Feeling flush? Stay at the Balmoral, a beautiful boutique hotel located on Princes Street in Edinburgh's main shopping area. The hotel also has a Michelin-starred fine dining restaurant with outstanding cuisine from Chef Jeff Blend and the Palm Court for traditional afternoon tea. After a long day visiting the Edinburgh attractions, leave the bustling city behind you and relax at the Balmoral Spa.
Madinat Jumeirah Resort, Dubai
If you want some winter sun rather than a crisp winter break in the country, head to Dubai for a fast-paced holiday of flashy hotels, sizzling sun and poolside fun with the family. The magnificent Madinat Jumeriah Resort combines traditional Arabian style and comfort. Dining here is a real treat with over 40 restaurants and bars, including the fresh seafood of award-winning Pierchic and the Friday Brunch by the waterside with a glass of champagne. Want to charter a yacht or go water skiing? There is also two kilometres of private beach to enjoy while the kids are at Sinbad's Kids Club.
For crispy country walks and cosy pubs country lovers will adore Chewton Glen in Hampshire. Set in 130 acres of countryside is Chewton Glen, a luxury country house hotel and spa, has a varied range of food and drink options all offering wonderful dining in beautiful surroundings using only the finest local produce from the New Forest and Hampshire. The hotel and the area are full of activities to do. Why not walk the beautiful grounds around the hotel, improve that tennis game at both indoor and outdoor tennis courts or brave the outdoor swimming pool? For adventure seekers there is also clay pigeon shooting, horse riding and off-road driving nearby,
Excelsior Hotel & Spa, Dubrovnik, Croatia
Being a destination where Beyoncé and Jay-Z holidayed two years ago, Dubrovnik has become increasingly popular. Set on the Adriatic Sea, the small Croatian town is bustling, lively, and populated by a host of lovely restaurants, bars and shops, which have all sprung up in recent years. Stay in the Excelsior Hotel and Spa, just steps away from the old city and known for its personal touch and flawless service. The resort boasts 158 rooms and suites, all with stunning views, and there are activities for everyone from going on an Adventure Jeep Safari to horseback riding.
For all media enquiries please contact Jenny Graham on E: Jenny@Quintessentiallytravel.com / P: +44 (0)845 2246 915 ext 6678
About the Company:
Quintessentially Travel is a sister business of Quintessentially, the leading international luxury lifestyle company. Launched in 2000 as a small London based concierge service, Quintessentially (http://www.quintessentially.com) has experienced a complete transformation in a decade, and currently have offices in over 64 cities around the world. The service provided to their discerning and HNW members is proactive and personalised, catering to every member's need, from last minute restaurant bookings, travel arrangements, and access to private parties, as well as fulfilling every unusual request and successfully connecting businesses all over the world. Quintessentially can offer access to the inaccessible and can make the seemingly impossible, possible. In a bid to ensure only the very best service is delivered across the luxury market, Quintessentially has also launched 32 luxury sister businesses comprised of experts in every luxury division. This includes real estate, travel, luxury retail, wine, art, flowers, private aviation and more (http://www.quintessentiallygroup.com).