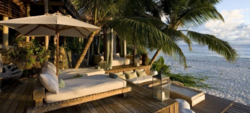 London, UK (PRWEB) July 11, 2012
Quintessentially Travel suggests the top five destinations and hotels to flee to this summer.
Soak up the sun this summer by lying on a beach and take in the beauty of a private paradise at the exclusive North Island Resort. Amongst the largest of the villas in the Indian Ocean they boast expansive and uncluttered indoor and outdoor living space, a private plunge pool and dedicated butler service. Dining is also a personalised experience here from enjoying a gourmet picnic on the beach to relaxing outside the wine cellar.
This place is perfect for honeymooners where one can cuddle up with a loved one, a bottle of champagne and chocolate truffles and enjoy a movie night in the comfort of that private villa. Travelling with kids? Well then grab a family film selection and some popcorn for a fun night in.
Singita Sabi Sand, South Africa
Journey onto the plains of South Africa and stay at the stunning Singita Sabi Sand, the ultimate in safari luxury and prime area to view the "Big Five" in their natural habitat. Their two magnificent lodges overlook the Sand River, each with private pool and game viewing deck, spacious interiors, fireplace, en-suite bathroom and inside and outside shower. There are also gym and health spa facilities to use between game drives and authentic Boma dinners and guided tastings of premium South African wines to enjoy with a partner.
Il Salviatino, Florence, Italy
Perched within the hills of Fiesole with spectacular views of Florence and the Tuscan hillside, this 15th century villa has been completely restored to its original splendor. Located just 10 minutes outside Florence city centre, this beautiful property offers the perfect balance between traditional and modern. It boasts spectacular Italian gardens, restored to their original beauty; a fine dining restaurant, Grappolo, which captures the true essence of Italian cuisine and is a haven for gourmet enthusiasts.
The Oberoi has made its mark on the landscape of Bali, sitting across 15 acres of beautiful beach. With rooms decorated in the traditional culture and a state of the art spa, anyone will feel like they have walked into paradise, leaving one invigorated by the experience. Ever tried Bamboo? The Bamboo Signature cocktail made from Bacardi, gin, triple sec and tropical fruit juice also fits perfectly with the surroundings as the sun goes down.
Abama Golf & Spa Resort, Tenerife, Spain
The perfect escape from the usual family routine is Abama Golf resort & Spa, family friendly and also great options just for mum and dad. There are endless dining options from Michelin Star fine dining at M.B, a relaxed lunch at the ocean-front Beach Club or even a romantic meal at the outdoor terrace of El Mirador to watch the sunset over a fresh seafood dinner.
If you quickly tire of sun-bathing at the ocean-front Beach Club on the secluded golden sand beach, then don't worry as there's plenty to keep the family occupied from a golf academy, a tennis academy, nine swimming pool and a kid's club. For parents who need to be pampered there is also Abama Spa and activities such as cooking authentic paella or wine tasting lessons at the weekly gourmet workshops.
For all media enquiries please contact Jenny Graham on E: Jenny@Quintessentiallytravel.com / P: +44 (0)845 2246 915 ext 6678
About the Company:
Quintessentially Travel is a sister business of Quintessentially, the leading international luxury lifestyle company. Launched in 2000 as a small London based concierge service, Quintessentially (http://www.quintessentially.com) has experienced a complete transformation in a decade, and currently have offices in over 64 cities around the world. The service provided to their discerning and HNW members is proactive and personalised, catering to every member's need, from last minute restaurant bookings, travel arrangements, and access to private parties, as well as fulfilling every unusual request and successfully connecting businesses all over the world. Quintessentially can offer access to the inaccessible and can make the seemingly impossible, possible. In a bid to ensure only the very best service is delivered across the luxury market, Quintessentially has also launched 32 luxury sister businesses comprised of experts in every luxury division. This includes real estate, travel, luxury retail, wine, art, flowers, private aviation and more (http://www.quintessentiallygroup.com).