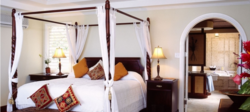 London, UK (PRWEB) May 02, 2012
Quintessentially Travel take a look at The Royal Family's globetrotting antics over the past year, sharing their suggestions on how best to replicate their itineraries...
Prince Harry – Jamaica Inn, SAVING £550 pp
As referred to by Harry whilst addressing a banquet in Jamaica:
It's vibrant, vigour and wonderful welcome to visitors and the island's natural beauty combines to make Jamaica unique.
The Jamaica Inn has been a Caribbean classic since the 1950s - and its colonial allure is timeless. Marilyn Monroe, Noel Coward and Errol Flynn have all cast their shadows on the terrace, but whilst the old-time glamour remains, manager Mary Phillips keeps the place up-to-date, so it appeals to a range of ages. Located on a stunning private cove just east of Ocho Rios, with 45 suites and 8 cottages, the hotel has been in the same family for over 50 years. All in all, it's great for those who want a quiet, classy atmosphere, and some good old-fashioned spoiling.
Offer: Stay 4 nights for the price of 3; 7 nights for the price of 5 or 14 nights for the price of 10 plus receive a daily credit that can be used towards food and beverages in the hotel. This offer is valid for travel from 2nd May - 14 December 2012. SAVE £550 per person based on a 2 week holiday.
The Prince Of Wales and The Duchess Of Cornwall – Molori Great Barrier Reef, Port Douglas
Molori Great Barrier Reef is located between the world's oldest rainforest and the Great Barrier Reef in tropical Port Douglas, Australia. The exquisitely-designed five bedroom retreat is available in its entirety and features a totally separated Master Suite and four king-sized bedrooms with en suite bathrooms. The contemporary living area combines an informal lounge with an open plan kitchen and both indoor and outdoor dining areas. The retreat also features a private infinity pool, a steam room and a surround sound cinema & media room. Guests can enjoy the services of a private chef and butler who provide the distinctive Molori standards of service and hospitality.
The Earl and Countess Of Wessex – Carlisle Bay, Antigua – SAVING £590pp
With a ravishing beach in a secluded bay, a backdrop of hills and rainforest, two outstanding restaurants, an exceptional spa and philosophy founded on generous service, Carlisle Bay is simply stunning. Carlisle Bay is home to two of Antigua's most outstanding restaurants with Indigo on the Beach, an al fresco affair and East, offering exciting Pan-Asian food in a stunning contemporary setting with one side overlooking spectacular torch lit water feature. It is a fantastic place for rest and relaxation, but if one needs something a little more exhilarating, why not try zipping through the rainforest on high wires 350 feet above the tree tops?
Offer: Stay 7 nights, pay 4; Stay 14 nights, pay 8. Valid for travel 28 April - 30 June. Save from £590pp on a 7 night stay basis.
The Princess Royal – Azura at Quilalea, Mozambique
Quilalea Private Island: a private, wholly uninhabited island paradise surrounded by the pristine waters of the Quirimbas Archipelago marine sanctuary. Azura at Quilalea is a hidden gem where one can experience total privacy, exclusivity and beauty.
Inkeeping with the uninhabited nature of the island, the retreat consists of only 9 seafront villas. Built from natural stone and makuti thatch, featuring both indoor and outdoor showers and own private deck that meets the beach, the villa allows someone to feel at one with the beautiful, natural surroundings. Choose a villa on either the sunrise or sunset side of the island.
Local food dominates the cuisine experience at Quilalea. The Mozambican Butler can choose where guests eat with no location too much trouble for them and unique dining experiences a given. From breakfast at the water's edge, to a picnic on a sandy island, to dining on a candle lit beach beneath the stars - the resorts' aim is for anyone to never eat in the same place twice!
Have the beach to oneself and decide to snorkel the Islands shores, kayak the mangroves or relax in a hammock beneath the giant baobabs. Enjoy an African treatment at the Spa on the headland or be pampered in the villa. Become part of the islands energy saving ethos by controlling own energy consumption. End that holiday with a romantic candle lit beach picnic that one will never forget.
For further information on further whale watching holiday recommendations visit http://www.quintessentiallytravel.com or contact E: info(at)quintessentiallytravel(dot)com / T: +44 (0)845 269 1152
About the Company:
Quintessentially Travel is a sister business of Quintessentially, the leading international luxury lifestyle company. Launched in 2000 as a small London based concierge service, Quintessentially (http://www.quintessentially.com) has experienced a complete transformation in a decade, and currently have offices in over 64 cities around the world. The service provided to their discerning and HNW members is proactive and personalised, catering to every member's need, from last minute restaurant bookings, travel arrangements, and access to private parties, as well as fulfilling every unusual request and successfully connecting businesses all over the world. Quintessentially can offer access to the inaccessible and can make the seemingly impossible, possible. In a bid to ensure only the very best service is delivered across the luxury market, Quintessentially has also launched 32 luxury sister businesses comprised of experts in every luxury division. This includes real estate, travel, luxury retail, wine, art, flowers, private aviation and more (http://www.quintessentiallygroup.com).