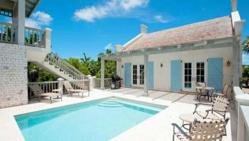 London, UK (PRWEB) August 29, 2012
Enjoy an exotic escape and take a luxury holiday to one of Quintessentially Villa's exotic Caribbean villas.
What better place to spend a romantic holiday than on a paradise island in the Turks & Caicos? Nutmeg Cottage is a charming 1 bedroom property with spectacular ocean views and easy access to the world-renowned Grace Bay Beach. Cuddle in the property's lazy hammock, walk hand-in-hand down the sugar-white, sand beach or take a midnight dip in the property's private pool. Nutmeg Villa provides the ideal romantic Caribbean retreat.
Admire the beauty of the Caribbean on a private island. Located in Saint Vincent and the Grenadines, Canouan Island offers unparalleled views of the beautiful azure waters and offers utter privacy in its 2-6 bedroom villas. Each villa features its own en-suite bedroom, private pool, sitting room and large veranda. All the villas enjoy access to the services provided on the entire estate; including the championship 18-hole golf course, tennis court, water sports centre and 5 signature restaurants and bars.
Picture this; perfect sunsets, tropical surroundings, palm fringed beaches and fantastic views from your own veranda. Sounds good? Then Quintessentially Villas Grand Bleu Villa in St. Martin is the one. Boasting 2 swimming pools and 4 en-suite bedrooms, this fantastic villa is only a 10 minute walk to the secluded Plum Bay Beach. Surrounded by lush vegetation and with a superb terrace this is the perfect place to watch the sun set.
Jamaica is one of the most vibrant islands in the Caribbean so it quite rightly deserves an impressive villa for entertaining. Villa 17 at the Round Hill Resort, Montego Bay, is a stunning 4 bedroom luxury villa, ideal for family gatherings or celebrating special occasions. Boasting amples of indoor and outdoor space, a private pool, expansive lawns, dedicated staff and un-spoilt views of the Caribbean Sea, Villa 17 is a great party pad in Jamaica!
Villa Rockstar
Fit for the stars, St. Barthelemy is a popular Caribbean destination for the celebs. With this in mind, only the most glamorous villa will do. Introducing Villa Rockstar, Quintessentially Villas superb 4 bedroom property, boasting a swimming pool, spa pool, recording studio, fully equipped gym, walled garden, sports area, provides private access to the beach and comes fully staff.
To browse the exclusive portfolio of beautiful villas or to speak to an advisor about booking a villa please visit http://www.quintessentiallyvillas.com or call +44 (0)845 269 6673
About the Company:
Quintessentially Villas is a sister business of Quintessentially. Quintessentially is the leading international luxury lifestyle company. Launched in 2000 as a small London based concierge service, Quintessentially has experienced a complete transformation in a decade, and currently have offices in over 64 cities around the world. The service provided to their discerning and HNW members is proactive and personalised, catering to every member's need, from last minute restaurant bookings, travel arrangements, and access to private parties, as well as fulfilling every unusual request and successfully connecting businesses all over the world. Quintessentially can offer access to the inaccessible and can make the seemingly impossible, possible. In a bid to ensure only the very best service is delivered across the luxury market, Quintessentially has also launched 32 luxury sister businesses comprised of experts in every luxury division. This includes real estate, travel, luxury retail, wine, art, flowers, private aviation and more (http://www.quintessentiallygroup.com).