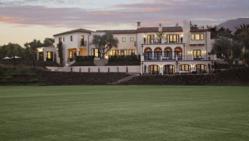 London, UK (PRWEB) May 16, 2012
Where do people want to venture to if they have a love for horses? Quintessentially Villas are experts in this area and have named five properties that can deliver just this.
The Royal Jewel of the Equestrian Crown, this vast estate in Santa Barbara is the one that shines the brightest! Set in 22 acres of land, California Equestrian Estate adjoins the Santa Barbara Polo & Racquet Club, boasts a private exercise field with a trail accessing the club grounds and 54-stall stables. The expansive views over the equestrian exercise field to the ocean and beyond is a truly wonderful sight! The property itself offers 6 bedrooms, a home cinema, wine cellar, infinity swimming pool, a gated entrance and ample parking space. California Equestrian Estate will give someone and their horse royal luxury!
Step back in time with a stay at the enchanting property, La Fortuna. Located in the rural countryside just two hours from Buenos Aires, Argentina, La Fortuna is home to over twenty horses and a collection of carriages. Be Lady of the Manor and explore the beautiful Argentinean countryside from the comfort of one's own carriage. Alternatively, if people prefer to be in the driving seat, La Fortuna can teach guests how to drive them! Once the racing is over, relax and unwind in the property's elegant living area, take a dip in the swimming pool, explore the library, play in the billiard room or simply soak up the breathtaking terrace views while the staff of eight take care of guests' every need.
Home to Southern Europe's leading equestrian facilities and led by a member of Spain's highly regarded classical training team, Mas Mateau in Empordà is truly equestrian royalty! Set in 70 hectares of land, this villa is also home to one of the world's finest facilities for training dressage horses and can stable up to ten horses. There is an all weather covered track, outdoor track, warm up track, horse lunging and six paddocks. If the ten bedrooms found in the main house of Mas Mateau are not enough, the estate also provides living quarters for the trainers. For those who prefer to admire the horses than ride them, you can take full advantage of Mas Mateu's extensive facilities, including a swimming pool complex, spa, gym, football field, basketball court, and cinema room.
Presenting Quintessentially Villa's Italian Stallion of Tuscan Villas, Il Roseto is the one to beat! Located on a private farming estate, just outside the walls of Siena, Il Roseto has been beautifully renovated from former stables, providing an elegant and traditional Tuscan escape. The property boasts 6 bedrooms, a swimming pool and beautifully manicured gardens ideal for alfresco dining and admiring the stunning Tuscan hills. Just ten minutes from Siena's centre, Il Roseto is perfectly positioned for those wishing to experience the renowned Palio di Siena Horse Race while maintaining their own privacy.
Acting as the only tournament of its kind in the world and held in central London over three days, MINT Polo in the Park is soon to return to Hurlingham Park…and Quintessentially Villas has the ideal apartment in which to stay. Located in central Putney, minutes for the park, Swish is a contemporary yet chic 2 bedroom apartment with a large living area, private balcony, private parking space and concierge services. Available from one night rentals to monthly, long-term rentals, Swish Apartment is someone's ticket to a "racy" summer of Polo.
To browse the exclusive portfolio of new beautiful villas or to speak to an advisor about booking a villa please visit http://www.quintessentiallyvillas.com or call +44 (0)845 269 6673
For all press enquiries regarding Quintessentially Villas, please contact: Felicity Gale +44 (0)845 269 6673 / E: felicity (at) quintessentiallyvillas (dot) com
About the Company:
Quintessentially Villas is a sister business of Quintessentially. Quintessentially is the leading international luxury lifestyle company. Launched in 2000 as a small London based concierge service, Quintessentially has experienced a complete transformation in a decade, and currently have offices in over 64 cities around the world. The service provided to their discerning and HNW members is proactive and personalised, catering to every member's need, from last minute restaurant bookings, travel arrangements, and access to private parties, as well as fulfilling every unusual request and successfully connecting businesses all over the world. Quintessentially can offer access to the inaccessible and can make the seemingly impossible, possible. In a bid to ensure only the very best service is delivered across the luxury market, Quintessentially has also launched 32 luxury sister businesses comprised of experts in every luxury division. This includes real estate, travel, luxury retail, wine, art, flowers, private aviation and more (http://www.quintessentiallygroup.com).