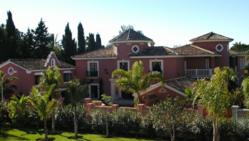 London, UK (PRWEB) April 25, 2012
Quintessentially Villas boast a catalogue of luxury villas across the globe in locations so beautiful that even celebrities are getting in on the act, choosing to spend their own time relaxing in these stunning spots. Quintessentially Villas name the top 5 hot spots to enjoy a celebrity centered holiday.
Don't miss the chance to be a trend setter for the rich and the famous, and book a villa holiday with Quintessentially Villas – delivering the hottest and coolest villas worldwide.
1. El Andaluz Got Talent
Located in the holiday home destination of Spain's elite, El Andaluz is a beautiful 6 bedroom villa that provides a haven for privacy and luxury. With less than a 5 minute walk to the beach it's easy to see why Simon Cowell chose this spot to buy a villa of his own. It is clear to all that this gorgeous stretch of coastline has the X-Factor. Sitting on an acre of land, El Andaluz comes with all the extras needed for a relaxing getaway, including a private pool, landscaped gardens and a fireplace on the terrace – allowing one to enjoy the glorious weather in privacy.
Offer: For the months of May, June and September, enjoy a 15% discount for one week bookings and a 20% discount for two week bookings!
2. Tuscan Fields of Gold
Villa Borgo Bernardini is an elegant 19th-century 12 bedroom villa set in the heart of a vast estate of hills terraced with olive groves. The surrounding Tuscan countryside is so enchanting that front-man Sting decided to purchase a villa in this delightful corner of Italy. Villa Borgo Bernardini boasts a spacious Italian garden that becomes ever more charming with every breath taken of the fresh Tuscan air. The garden provides a peaceful setting for the delightful swimming pool from which to soak up the beautiful views.
Offer: With Quintessentially Villas enjoy a 20% discount on the months of June and July 2012!
3. The Winning Formula
Baan Saleah is a brand new 4 bedroom villa located on a headland between two of Phuket's most stunning beaches. This beautiful location is a favourite relaxation spot for a range of celebs, including Formula 1 driver Kimi Raikkonen. Just like an F1 car, this villa is built to a high specification and no expense has been spared, from the large infinity pool to the luxury designer furniture.
4. Hit Sri Lanka For 6
Cocoon Resort in Kaikawala has 27 bedrooms across a number of villas, and is a former Cinnamon Plantation that is surrounded by a lush tropical rainforest. This is the chance to discover the land that has produced world beaters such as the legendary spin bowler Muttiah Muralitharan and talismanic former Sri Lankan captain Sanath Jayasuriya. People will be bowled over by the extensive facilities on offer including a private pool with massage jets and romantic seating areas with stunning views. There is also a large selection of worldwide cuisines and wines, a spa and fitness centre, along with the private shuttle service to the beach.
Early Bird Offer: 18th April - 30th September - All bookings confirmed 2 months prior to arrival between 20th April – 30th September will receive a complementary Jet Lag massage for 2 (30mins each) OR complimentary head massage for 2 (30mins each). PLUS! During these dates stay 7 nights and only pay for 5nights OR stay 3 nights and only pay for 2nights!
5. The Algarve Life Is A Roller Coaster
Set on a hillside in the Vale Judeu area of the Algarve lies Quinta da Varzea. This stunning newly built villa commands spectacular views towards the Mediterranean Sea and is a favourite celebrities such as former Boyzone front man Ronan Keating. This 7 bedroom villa boasts an infinity pool surrounded a large terrace with sun loungers, giving you a chance to relax and unwind when the going gets tough. Inside the villa, the French windows give a feeling of space and light, whilst air conditioning and ceiling fans will keep people cool throughout their stay.
To browse the exclusive portfolio of new beautiful villas or to speak to an advisor about booking a villa please visit Quintessentially Villas or call +44 (0)845 269 6673
For all press enquiries regarding Quintessentially Villas, please contact: Felicity Gale +44 (0)845 269 6673 / E: felicity(at)quintessentiallyvillas(dot)com
About the Company:
Quintessentially Villas is a sister business of Quintessentially. Quintessentially is the leading international luxury lifestyle company. Launched in 2000 as a small London based concierge service, Quintessentially has experienced a complete transformation in a decade, and currently have offices in over 64 cities around the world. The service provided to their discerning and HNW members is proactive and personalised, catering to every member's need, from last minute restaurant bookings, travel arrangements, and access to private parties, as well as fulfilling every unusual request and successfully connecting businesses all over the world. Quintessentially can offer access to the inaccessible and can make the seemingly impossible, possible. In a bid to ensure only the very best service is delivered across the luxury market, Quintessentially has also launched 32 luxury sister businesses comprised of experts in every luxury division. This includes real estate, travel, luxury retail, wine, art, flowers, private aviation and more (http://www.quintessentiallygroup.com).