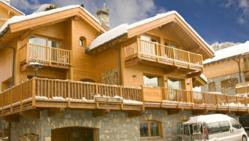 London, UK (PRWEB) January 18, 2012
Take a short break this February half term and head off into the sun or snow for some family fun. Quintessentially Villas advise people the popular places to head this half term.
Best for… Skiing
For all skiing enthusiasts the February half term is a perfect opportunity to escape to the mountains and make the most of the ski season. In the heart of The Three Valleys, France, one will find the prettiest ski resort around, Meribel. Offering something for everyone, and catering for all skiing abilities, it is no wonder that Meribel has become such a sought after resort.
Offering ski-in ski-out Alpine luxury, Chalet Rachelle is a spacious 5 bed chalet complete with heated ski and boot room and open log fires. Four of the five bedrooms have balconies overlooking the mountains and all but one double room can be converted into twin rooms. And to make it the Crème de la crème of Alpine residences, Chalet Rachelle also features a Jacuzzi and sauna. Bon voyage!
Best for… a Cultural Adventure
Replace the hustle and bustle of life at home with the exploration and excitement of different cultures abroad, especially in Marrakech. Discover the history and traditions of Morocco's cultural centre in the cooler month of February. For the ultimate in authentic accommodation stay at Riad Kitula, once part of a Kalif's palace in 1750 and located next to the Koutoubia mosque and the Djemaa el Fna. Riad Kitula can be rented as a complete dwelling, providing 5 en-suite bedrooms, or alternatively rented as individual rooms. Enrich those senses with a stay at Riad Kitula.
Best for… Caribbean Sun
This is what everyone longs for in the winter months, the sun's warm rays on someone's skin. Escape this half term to the beautiful tropical paradise that is St. Martin, with picture perfect beaches and weather to accompany it. For utter indulgence stay at L'Oasis, a secluded and gated beachfront estate offering total privacy at one end of Baie Rouge Beach. With 5 king bed suites and one en-suite with twin beds, this glamorous villa could be the perfect Caribbean retreat for a family. Complete with a fully equipped media room, Spa with gym, Jacuzzi and two swimming pools one will be spoilt for choice at L'Oasis.
Best for… a UK Retreat
For those who don't want to travel too far for February Half term but still desire a luxury break, Quintessentially Villas has the answer, Elkstone House. Located in the beautiful historic town of Chipping Campden in the Cotswolds, Elkstone House is the epitome of English charm, with its thatched roof, Cotswold stone and oak-beams. The five bedroomed house has a spacious garden, cinema room, swimming pool and sauna, providing a week long's entertainment for the whole family.
Best for… a City Break
Cape Town may seem a little OTT for a city break in February; however it is when the city is at its best. The South African summer offers sunshine filled days and long sunny evenings. For a fabulous villa to accommodate your stay in this enchanting place, stay at The House, with 7 double bedrooms and en-suites. The House is an easy walk from the famous Camps Bay Beach with fine restaurants and trendy shop, helping someone live life.
About the Company:
Quintessentially Villas is a sister business of Quintessentially. Quintessentially is the leading international luxury lifestyle company. Launched in 2000 as a small London based concierge service, Quintessentially has experienced a complete transformation in a decade, and currently have offices in over 64 cities around the world. The service provided to their discerning and HNW members is proactive and personalised, catering to every member's need, from last minute restaurant bookings, travel arrangements, and access to private parties, as well as fulfilling every unusual request and successfully connecting businesses all over the world. Quintessentially can offer access to the inaccessible and can make the seemingly impossible, possible. In a bid to ensure only the very best service is delivered across the luxury market, Quintessentially has also launched 32 luxury sister businesses comprised of experts in every luxury division. This includes real estate, travel, luxury retail, wine, art, flowers, private aviation and more (http://www.quintessentiallygroup.com).
###