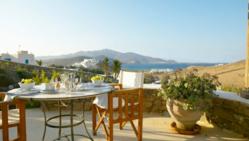 London, UK (PRWEB) March 13, 2012
With the best food and wine on offer from destinations around the world, it's time to indulge one's senses on one of Quintessentially Villas' gastronomic getaways.
Located on a peaceful hilltop with views of the turquoise blue Aegean Sea, this 4 bedroom, 4 bathroom property imbues guests with positive energy, inner health and tranquillity. With olive trees on site, the villa is steeped in rustic charm and is surrounded by traditional agricultural landscapes. Enjoy the wonderful facilities including a Jacuzzi and a private swimming pool. There are also spectacular services such as massage treatments, a butler, chauffeur, chef, private yacht and helicopter charter services.
Offer: Stay at Villa Galaxy and get a complimentary dinner at the Taverna, a traditional Greek restaurant that catered Gordon Ramsay, a Villa Galaxy guest.
The distinctive combination of breath-taking views, modern amenities and privacy makes this villa an exceptional vacation spot for even the most experienced and elite traveller. With a stunning infinity pool that dazzles the senses, this beautifully rustic 4 bedroom villa also blends into the rocky topography of its hillside setting with magnificent views of the Aegean Sea.
Offer: Throughout the whole season excluding July and August. Full catered lunch with Greek food & a private chef for every booking of 2 weeks and longer.
The beautiful, three-bedroom, Villa Sunset is located on the shore of a peaceful ocean lagoon. The interior design and architecture of the villa mirrors the environment, to envelop one in an atmosphere of extreme relaxation by the ocean. Enjoy a tropical cocktail by the pool, or tuck into a book in the cozy waterfront gazebo. This is the ideal villa for a secluded romantic getaway, family vacation or a funky holiday with friends.
Offer: 10% discount and a complimentary Indonesian style candlelight dinner (no drinks) served on the estate's private jetty for bookings longer than 10 days.
Located in the infamous wine producing region just West of Bordeaux the tranquil Villa La Tosca is discretely situated in the heart of the serene Arcachon Bay. This 8 bedroom villa offers a beautiful garden overlooking the beach, the ideal place to smell, taste and enjoy the delights of this stunning corner of France. Villa La Tosca is a dream retreat for the lover of great food and wine, delivering a feast for the eye and warmth for the soul.
Offer: 4 day Bordeaux discovery tour. This includes wine tasting, dinner cooked by a private chef, exploration of the oyster villages, touring of the food markets, antiquities and museums of Bordeaux.
To browse the exclusive portfolio of new beautiful villas or to speak to an advisor about booking a villa please visit QuintessentiallyVillas.com or call +44 (0)845 269 6673
For all press enquiries regarding Quintessentially Villas, please contact: Felicity Gale +44 (0)845 269 6673 / E: felicity@quintessentiallyvillas.com
About the Company:
Quintessentially Villas is a sister business of Quintessentially. Quintessentially is the leading international luxury lifestyle company. Launched in 2000 as a small London based concierge service, Quintessentially has experienced a complete transformation in a decade, and currently have offices in over 64 cities around the world. The service provided to their discerning and HNW members is proactive and personalised, catering to every member's need, from last minute restaurant bookings, travel arrangements, and access to private parties, as well as fulfilling every unusual request and successfully connecting businesses all over the world. Quintessentially can offer access to the inaccessible and can make the seemingly impossible, possible. In a bid to ensure only the very best service is delivered across the luxury market, Quintessentially has also launched 32 luxury sister businesses comprised of experts in every luxury division. This includes real estate, travel, luxury retail, wine, art, flowers, private aviation and more at the Quintessentially Group.