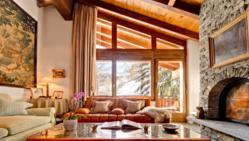 London, UK (PRWEB) July 06, 2012
Quintessentially Villas name the Grand Slam villas that are perfect for some time off before the players' next games.
For one of the greatest tennis players of all time, only the best will do! Federer might need to embroider that famous gold monogram on some walking boots, as the summer outdoor activities at Chalet Zen are not to be missed. With walking, hiking and mountain bike trails in addition to all season skiing, the spectacular mountain scenery is the backdrop to that lavish 4 bedroom chalet getaway. With authentic yet sumptuous furnishings, dedicated staff, massage rooms and endless open-air opportunities, a 'smashing' time is ensured at Chalet Zen.
This luxury villa is sophisticated and unique, perfect for the most glamorous Williams' sister, Serena. Set in the exclusive location of Palm Springs, Zia Estate is a stylishly modern property where every person's comfort has been considered. From the 5 sumptuous bedrooms with elegant furnishings to the custom outdoor art pieces and inviting Jacuzzi, people can surround themselves with style at Zia Estate. With an expansive and chic living area, maybe even Venus will get an invite.
With the hours of practice and the crowd's excitement and expectation Andy Murray can be forgiven for feeling highly-strung. A stay at Aikbank Farmhouse is the perfect solution! A peaceful 5-star, 5 bedroom property in the beautiful Lake District, this modern house has been sumptuously designed, with bespoke furniture and state-of-the-art appliances. The attentive concierge service, beautiful gardens and tranquil surroundings make this the perfect post-match retreat, and one can only hope the tennis player would be joined by the whole Murray family celebrating a successful Wimbledon final.
Nestled amongst the trees of over 6 hillside acres, Jo-Wilfred Tsonga would be proud of the way Villa Savannah shows off the spectacular French countryside. Thanks to the villa's 360 degree panoramic vista, no-one would need Hawk-Eye to enjoy the stunning surroundings. Elegantly furnished and with 4 plush bedrooms, expect total relaxation in this tranquil property. The East and West facing terraced areas have comfortable dining and chill-out areas, perfect for alfresco meals and watching the sun set with family and friends.
With the shock exit from this year's competition, Rafa Nadal can escape the characteristically awful British weather to this magnificent sun-drenched Spanish villa. This 5 bedroom property is truly ace – spacious with modern and fashionable furnishings. Rejuvenate by relaxing or partying, (or both!) as the property has the luxury of privacy but is situated only fifteen minutes from buzzing Ibiza Town. The superb outdoor areas boast a huge infinity pool, lit up at night and comfortable Balinese style 'chill-out temple'.
To browse the exclusive portfolio of beautiful villas or to speak to an advisor about booking a villa please visit Quintessentially Villas' website or call +44 (0)845 269 6673
About the Company:
Quintessentially Villas is a sister business of Quintessentially. Quintessentially is the leading international luxury lifestyle company. Launched in 2000 as a small London based concierge service, Quintessentially has experienced a complete transformation in a decade, and currently have offices in over 64 cities around the world. The service provided to their discerning and HNW members is proactive and personalised, catering to every member's need, from last minute restaurant bookings, travel arrangements, and access to private parties, as well as fulfilling every unusual request and successfully connecting businesses all over the world. Quintessentially can offer access to the inaccessible and can make the seemingly impossible, possible. In a bid to ensure only the very best service is delivered across the luxury market, Quintessentially has also launched 32 luxury sister businesses comprised of experts in every luxury division. This includes real estate, travel, luxury retail, wine, art, flowers, private aviation and more (http://www.quintessentiallygroup.com).