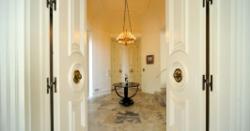 London, UK (PRWEB) March 21, 2012
With Easter just weeks away, Quintessentially Villas name the top 5 villas to escape to this Easter.
Californian Stroll - USA
Some stars like to keep it simple and enjoy the beautiful scenery in and around L.A. Ryan Reynolds and Blake Lively enjoyed a romantic picnic in the park while relaxing under the Californian sun. The seven bedroom Flores Residence in Beverly Hills is a beautiful example of Hollywood Regency architecture; with a pool and garden terrace producing a glorious Californian retreat. A short walk away from Sunset Boulevard and close to the hottest restaurants and bars in L.A. this is your chance to live the Hollywood dream and star in a blockbuster!
The Pool on the Hill – St. Barts
Paul McCartney, the former Beatle was seen strolling in St. Barts with wife Nancy Shevell days after enjoying a vacation in Paris. Quintessentially Villas beautiful three bedroom villa, Amis du Vent, gives someone a chance to strut their stuff in this stunning holiday destination. With unsurpassed views of the ocean and the bay, and a beautifully designed pool there will be no reason to book another holiday after relaxing in this wonderfully decorated and well equipped villa.
Mayan Escape - Mexico
Hollywood leading man George Clooney knows how to appreciate an escape, regularly holidaying to the fantastic resorts and villas in Mexico. Mexican getaways are also highly treasured at Quintessentially Villas which is why the company are offering this delightful beachfront Mayan Riviera Villa. Named Hacienda Caracol, this charmingly decorated ten bedroom property overlooks the second largest coral reef in the world. With its luxurious Jacuzzi, crystal clear pool and spacious balconies the villa produces coastal views handsome enough to make George himself a little jealous.
Var Var away near St. Tropez - France
Quintessentially Villas brings you the glorious Villa Savannah, located in the countryside a short drive from St. Tropez, this four bedroom property enjoys inspiring panoramic views that even Beyoncé would call Irreplaceable. This elegant villa sits on the edge of two vineyards and its impressive grounds include a viewing terrace and a luxurious infinity pool making a stay at this property a must. So if like Jay Z someone has 99 Problems, choosing a holiday villa will not be one of them.
A Real Royal Retreat - Melbourne
At the end of last year the Queen visited Australia for the 17th time of that illustrious career; with literally hundreds of other options what is it about Australia that keeps the Queen coming back? Villa Mallorca on the outskirts of Melbourne helps illustrate the unique charm of this beautiful country. Perched on the slopes of Mount Martha this five bedroom property enjoys sweeping views of the bay and the valley. Guests can live like royalty with in-house catering and pampering options available or just relax in the beautiful private swimming pool and Mediterranean terraced gardens.
To browse the exclusive portfolio of new beautiful villas or to speak to an advisor about booking a villa please visit http://www.quintessentiallyvillas.com or call +44 (0)845 269 6673
For all press enquiries regarding Quintessentially Villas, please contact: Felicity Gale +44 (0)845 269 6673 / E: felicity@quintessentiallyvillas.com
About the Company:
Quintessentially Villas is a sister business of Quintessentially. Quintessentially is the leading international luxury lifestyle company. Launched in 2000 as a small London based concierge service, Quintessentially has experienced a complete transformation in a decade, and currently have offices in over 64 cities around the world. The service provided to their discerning and HNW members is proactive and personalised, catering to every member's need, from last minute restaurant bookings, travel arrangements, and access to private parties, as well as fulfilling every unusual request and successfully connecting businesses all over the world. Quintessentially can offer access to the inaccessible and can make the seemingly impossible, possible. In a bid to ensure only the very best service is delivered across the luxury market, Quintessentially has also launched 32 luxury sister businesses comprised of experts in every luxury division. This includes real estate, travel, luxury retail, wine, art, flowers, private aviation and more (http://www.quintessentiallygroup.com).