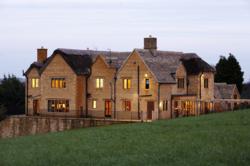 London, UK (PRWEB) December 19, 2011
After 2011's wintry weather, Quintessentially Villas proudly presents the 'Hottest places to start 2012 – Take It from the Stars'.
UK – There's No Place Like Home
As twilight settles on 2011 and the breaking dawn welcomes 2012, start the New Year like our favourite vampire, in England! Robert Pattinson and Kristen Stewart opted for the beautiful green pastures of England to welcome in 2011, and if it's good enough for the sexiest couple in Hollywood, it's good enough for Quintessentially clients! At the superb Cotswold property, Elkstone, people will feel a million dollars. This superb thatched house looks beautiful on the outside with so much more to offer on the inside, and is perfect for family retreats. Elkstone has five bedrooms and large contemporary living spaces, and as for that bit of Hollywood, it come with a sauna, cinema room and swimming pool.
Hawaii – Family Occasion
Make the start of 2012 a family occasion like Ben Affleck and Jennifer Garner did last year. For sun, sand, sea and guaranteed smiles all round this powerhouse couple enjoyed the dawn of the New Year on the beautiful island of Hawaii. At Coral Reef Villa there is enough room to invite all the family and even the in-laws! This sprawling mansion is almost as breath-taking as the stunning Kahala beach on which the villa stands. Sleeping up to 17 people this means that families can start the New Year surrounded everyone they love.
St. Barths – Sunny Rehabilitation
For some welcome rehabilitation at the end of the year, escape to the Caribbean Island of St. Barths and start 2012 fresh faced, take it from Ashton Kutcher and Demi Moore. At this one bedroom villa, Casamia, loved ones can enjoy each other's company and the picture perfect scenery. Designed to create a calm, tranquil environment, a visit to Casamia will ensure anyone can start the New Year refreshed.
Thailand – Escape To The Far East
Strut into the New Year like our favourite super model Kate Moss on an idyllic Island in Thailand. Making it her fourth year in a row, Kate undoubtedly loves to start the New Year on the sun-kissed sands and clear blue seas of Thailand. With Quintessentially Villas this can happen in 2012 in style at Villa Frangipani on Koh Samui. Silhouetted by lush tropical palms and fringed by the pristine white sands and irresistible turquoise waters, Villa Frangipani is the 'super villa' of Koh Samui…."Get the Frangipani Look!"
Barbados – Bask Up The Sun On The Beach
Everyone loves to hate Simon Cowell, but no one can help but LOVE his location for the beginning of 2011 – Barbados! This beautiful Caribbean island is a sensational place to start the New Year and obviously lived up to Simon's high expectations. If it's first class relaxation that is wanted,Villa Eden is the place to go. This luxurious five bedroom villa boats ocean views, a private pool and lush gardens. Simon can't moan about anything here.
For all press enquiries regarding Quintessentially Villas, please contact: Felicity Gale: +44 (0) 203 073 6673 / E: felicity(at)quintessentiallyvillas(dot)com
About the Company:
Quintessentially Villas is a sister business of Quintessentially. Quintessentially is the leading international luxury lifestyle company. Launched in 2000 as a small London based concierge service, Quintessentially has experienced a complete transformation in a decade, and currently have offices in over 64 cities around the world. The service provided to their discerning and HNW members is proactive and personalised, catering to every member's need, from last minute restaurant bookings, travel arrangements, and access to private parties, as well as fulfilling every unusual request and successfully connecting businesses all over the world. Quintessentially can offer access to the inaccessible and can make the seemingly impossible, possible. In a bid to ensure only the very best service is delivered across the luxury market, Quintessentially has also launched 32 luxury sister businesses comprised of experts in every luxury division. This includes real estate, travel, luxury retail, wine, art, flowers, private aviation and more (http://www.quintessentiallygroup.com).
###