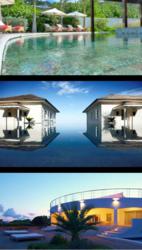 "This is a great opportunity for us to provide the world's most discerning travellers with a personal and loyal service. Our members rely heavily on our professionalism and we aim to transfer our great reputation onto this new venture." Aaron Simpson
London (PRWEB UK) 15 June 2011
The Quintessentially Group is renowned for having its finger firmly on the pulse and is the first to know when it comes to the dynamic nature and shifting trends within luxury lifestyle. Over the past 12 months the group's travel division, Quintessentially Travel, has recorded unprecedented demand of over 40% for villa rentals, and as such Quintessentially Villas has been created as a specialist all-encompassing villa business for Quintessentially Travel, that will research the finest portfolio of luxury villas, chalets, lodges and condos in the globes most glamorous destinations.
Head-quartered out of London, the Quintessentially Villas specialists will work in partnership with the Lifestyle Travel Managers at Quintessentially Travel, all of whom are who are on hand to offer divine guidance and cater to every whim and desire, from the moment a client books their trip, to the moment they return and everything in-between.
With properties that stretch from the bright lights of the world's busiest cities to the most remote island retreats, the Quintessentially Villas' team has passionately handpicked an eclectic global portfolio that will ensure the travelling elite will be provided with the finest property to match even the most complex requirement.
Perched on a hillside, a short stroll from the famous Macaroni Beach, Sunrise House combines exclusive elegance with a relaxed charm. This 5 bedroom villa has exquisite tropical gardens and is one of the few houses on the island to have its own secluded white sand beach.
Nestled on the south east coast of the stunning island of Ibiza is a luxury villa to tempt even the most discerning traveler. The 7 bedroom villa features the best of both worlds, with open air chill out areas on the veranda and a private beach, to its own mini nightclub inside.
For those seeking a peaceful retreat then Lorient Bay will produce a sigh of relief. This 5 bedroom property is designed with your luxury stay in mind, from the Jacuzzi on the terrace, to the view across to Saint Maarten, this villa is set in the perfect location to leave all your troubles behind you and relax.
To explore the exclusive portfolio of luxury villas please visit http://www.quintessentiallyvillas.com. If you wish to market your villa or book one of the properties advertised please contact our dedicated villa specialists at info(at)quintessentiallyvillas(dot)com or call +44(0) 845 269 6673.
For all press enquiries on Quintessentially Villas, please contact:
Jessica Jakins
Marketing Manager, Quintessentially Villas
T: +44 (0) 203 073 6673
E: Jessica.jakins(at)quintessentially(dot)com
NOTE TO EDITORS
Background on Quintessentially Villas
Quintessentially Villas is the brain child of Aaron Simpson, Chairman and co-founder of Quintessentially.
Quintessentially Travel
Quintessentially Travel, the masters of travel couture, is a bespoke luxury travel company, specialising in creating unforgettable and truly bespoke tailor-made experiences the world-over. http://www.QuintessentiallyTravel.com
The World of Quintessentially
In recent years, Quintessentially has undergone a rapid expansion, from the original concierge concept into a global luxury lifestyle group, with a staggering 60 offices around the world and a portfolio of 30 expert sister businesses; encompassing every lifestyle facet of luxury living. In addition to Quintessentially Villas, the other sister businesses include:
Quintessentially Art, Quintessentially Aviation, Quintessentially Bespoke, Quintessentially Covered, Quintessentially Communications, Quintessentially Design, Quintessentially Driven, Quintessentially Education, Quintessentially Escape, Quintessentially Estates, Quintessentially Events, Quintessentially Flowers, Quintessentially Foundation, Quintessentially Gifts, Quintessentially Home, Quintessentially Music, Quintessentially Natural, Quintessentially One, Quintessentially Publishing, QUBE, Quintessentially Rocksure, Quintessentially Soho at The House of St Barnabas, Quintessentially Travel, Quintessentially TV, Quintessentially Weddings, Quiverz, Quintessentially Wine, VIAVI and Worldwide iQ. http://www.QuintessentiallyGroup.com
# # #