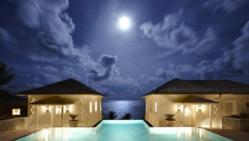 London, UK (PRWEB) February 07, 2012
Making a royal impact on those favorite newlyweds, Prince William and Kate, with a birthday celebration here last week, Mustique obviously has not lost its magic. Quintessentially Villas give the lowdown on the top 5 luxurious villas to relax in, in Mustique.
Sunrise House: The Jewel in the Crown
Perched majestically on a hillside, only a stone's throw away from the famous Macaroni Beach, one will find the jewel of Mustique, Sunrise House. Presenting far reaching views of the coconut groves and the turquoise Caribbean Sea, with its own secluded white sand beach and tropical gardens, Sunrise House is a villa that will dazzle. Offering five bedroom suites, numerous terraces for outdoor dining, a media room in which to unwind, a gym, a floodlit tennis court and a glistening infinity pool, Sunrise House is the Jewel in the Crown.
Plantation House: Fit for a King
Worthy of Royalty, Plantation House presents an unparalleled 270° view of the breath-taking Caribbean, from its prominent position above Lagoon Bay. Apart from the sensational views, the two-tiered terrace, imposing hall and hillside swimming pool all contribute to the regal magic of Plantation House. Four of the six bedrooms are located in the main house, while the remaining two sit in a separate, private cottage complete with en-suite bathrooms and dressing rooms. Plantation House offers views, accommodation and facilities fit for a King.
Rosa Dei Venti: Your Very Own Kingdom
Rosa dei Venti is a villa with its own little Kingdom. With thirteen acres of land to rule over in the north-eastern tip of the island, two swimming pools, a private tennis court, numerous terraces and five bedrooms, Rosa dei Venti is the Buckingham Palace of Mustique. Ideal for those seeking privacy and pampering by dedicated staff, this villa is the one to rule over all others.
Hummingbird: As Dazzling As That Dress
Similar to "The" Wedding Dress of the century, Villa Hummingbird is elegant, sophisticated and designed to impress. The eight acres of land, twenty metre travertine pool, six luxurious bedrooms and a separate cottage, make this villa the epitome of timeless sophistication. Villa Hummingbird is ideal for lavish island dinner parties, with a poolside gazebo for up to 26 people, allowing someone to show off "The" villa of Mustique.
For all media enquiries please contact Felicity Gale on E: felicity(at)quintessentiallyvillas(dot)com / P: +44 (0)845 269 6673
About the Company:
Quintessentially Villas is a sister business of Quintessentially. Quintessentially is the leading international luxury lifestyle company. Launched in 2000 as a small London based concierge service, Quintessentially has experienced a complete transformation in a decade, and currently have offices in over 64 cities around the world. The service provided to their discerning and HNW members is proactive and personalised, catering to every member's need, from last minute restaurant bookings, travel arrangements, and access to private parties, as well as fulfilling every unusual request and successfully connecting businesses all over the world. Quintessentially can offer access to the inaccessible and can make the seemingly impossible, possible. In a bid to ensure only the very best service is delivered across the luxury market, Quintessentially has also launched 32 luxury sister businesses comprised of experts in every luxury division. This includes real estate, travel, luxury retail, wine, art, flowers, private aviation and more (http://www.quintessentiallygroup.com).
###