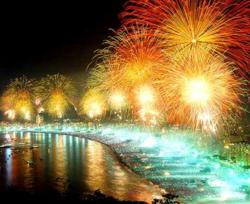 London, UK (PRWEB) November 14, 2011
Whether New Year is spent with family, friends or romance, Quintessentially Villas can offer advice on the best places to stay for whatever the tone of celebrations:
1) Best for…New Year's Eve with a Group of Friends
The ultimate party city, Rio de Janeiro, is a fantastic destination for a group of friends at New Year. For an incredible fireworks display, head down to Copacabana Beach to witness a stunning display and enjoy some of the best nightlife on offer, including multiple music stages along the beach full of music and the Brazilian flair and party spirit! If fortunate enough, it is possible to stay for the group to stay in their own private penthouse, Copacabana Terrace, overlooking Copacabana and the best views of all the action!
2) Best for…an Extravagant New Year
What could be more extravagant that a private chateau? For a large group of friends, this could provide an extravagant New Year's Eve to remember. Have a party in the main castle or grounds of the stately home - without having to worry about noise complaints from neighbours! There are a whole range of private chateaus to rent throughout France, with Chateau de Bourron being a great choice. Paris is also less than an hour away, and with stunning landscaped gardens and sumptuous interiors this could be a winner for NYE!
3) Best for…a Family New Year
For many families, especially those with young children, what to do for New Year's Eve is a difficult decision. Of course there are always parties, but to take children along is always a risk - and to get a babysitter, almost impossible! So for a NYE with the kids, how about venturing to a family home in the countryside? Whether it is just as a family, taking the extended family too, or even a couple of families, a gorgeous countryside house is a great choice. Rock Mill Estate in Devon, England, is a beautiful old mill, with a stunning and welcoming interior- ideal for kids and big kids alike.
4) Best for…an Unusual New Years Eve
For most of people NYE is spent in a restaurant, bar or a friend's house, however why not this year try something a little bit different? How about spending this New Year out on the African savannah? To go on safari is an unforgettable experience in itself, but for a new year, to remember it spent on safari could be incredible.Lemarti's Camp is a camp in Kenya where anyone can have an authentic experience whilst not compromising on luxury. Featured in numerous magazines and with a list of guests ranging from, Naomi Campbell and Daniel Craig to Ralph Lauren- this truly is an extraordinary place not to be missed.
5) Best for…a Romantic New Year
For some, a perfect New Year's Eve is spent with that special someone. So, for a romantic trip for two, how about visiting an island that screams romance and luxury? St Barths has an air of exclusivity about it, perfect to get away from it all without throngs of tourists ruining the romantic trip. Even more perfect would be a retreat with its own private beach – Sea Dream has just that and more. For a romantic escape Caribbean, island living is an idyllic choice!
For all press enquiries regarding Quintessentially Villas, please contact: Clemi Cruickshank: +44 (0) 203 073 6673 / E: clemi(at)quintessentiallyvillas(dot)com
About the Company:
Quintessentially Villas is a sister business of Quintessentially. Quintessentially is the leading international luxury lifestyle company. Launched in 2000 as a small London based concierge service, Quintessentially has experienced a complete transformation in a decade, and currently have offices in over 64 cities around the world. The service provided to their discerning and HNW members is proactive and personalised, catering to every member's need, from last minute restaurant bookings, travel arrangements, and access to private parties, as well as fulfilling every unusual request and successfully connecting businesses all over the world. Quintessentially can offer access to the inaccessible and can make the seemingly impossible, possible. In a bid to ensure only the very best service is delivered across the luxury market, Quintessentially has also launched 32 luxury sister businesses comprised of experts in every luxury division. This includes real estate, travel, luxury retail, wine, art, flowers, private aviation and more (http://www.quintessentiallygroup.com).
###