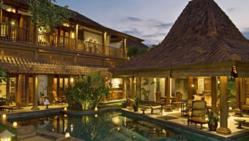 London, UK (PRWEB) January 10, 2012
Sit back and relax this Valentine's Day with a journey to an exotic escape and that special someone at one's side with Quintessentially Villas.
Bali, a tropical paradise with pristine white sands, clear turquoise waters, cascading waterfalls, lush rain forests and potent volcanoes, what more could someone want? Bali is an island made for romance and hence why it has made our top 5. Experience Bali at Villas Des Indes II nestled in the heart of the area's most stylish neighbourhood. This two bedroom colonial styled villa combines nostalgic luxury with the exemplary services of personal butlers and top class chefs, leaving someone to admire both the beauty of Bali, and that of their partner!
New Zealand – Dunalistair House
Famous for its natural beauty, New Zealand's mirror lakes and rolling mountains make it a unique romantic retreat. Often overlooked as a "love" destination, Quintessentially Villas believe that New Zealand's diverse and striking landscape is the future for fun-filled romance. Located on the North Island, in Taupo, Dunalistair House offers spectacular scenery in a secluded setting. Accommodating up to 8 guests, this luxurious house provides complete privacy and comfort.
For an excuse to snuggle up in front of the fire after a long day on the slopes, visit Chamonix, located in the heart of the French Alps and the perfect white wonderland for a romantic retreat. For a cosy and intimate getaway, stay at Chalet Baby Bear with two double bedrooms, fully equipped modern kitchen and large balcony boasting stunningly beautiful views. This could give a relationship the romantic boost of the year.
A place that needs no introduction for picture perfect beaches, sapphire blue waters and spectacular sunsets, Mauritius is recognised as one of the most romantic retreats in the world, which is why this isolated island continues to be a favourite for honeymooners. Stay at the luxury three bedroom Lunea Villa, ideally situated in a private resort just a short stroll from the beach. This villa features a private swimming pool, contemporary fitted kitchen and large outdoor patios and gardens. With views of beautifully manicured gardens and undulating mountains, Lunea Villa could be the ideal romantic getaway.
Argentina, land of the passionate tango, the beautiful Spanish language and an incomparable capital city. Buenos Aires, not only the capital of Argentina, is a cosmopolitan city, rich in beautiful architecture and fine restaurants. Share the love at the stunning 7 bed estate, La Fortuna. Located two hours' drive from Buenos Aires, and surrounded by Argentina's matchless rural landscape, one can tour the beautiful countryside in the home's 1920 Model T car. As the sun sets on one of the world's inimitable panoramas absorb the romance of this country and make it personal.
About the Company:
Quintessentially Villas is a sister business of Quintessentially. Quintessentially is the leading international luxury lifestyle company. Launched in 2000 as a small London based concierge service, Quintessentially has experienced a complete transformation in a decade, and currently have offices in over 64 cities around the world. The service provided to their discerning and HNW members is proactive and personalised, catering to every member's need, from last minute restaurant bookings, travel arrangements, and access to private parties, as well as fulfilling every unusual request and successfully connecting businesses all over the world. Quintessentially can offer access to the inaccessible and can make the seemingly impossible, possible. In a bid to ensure only the very best service is delivered across the luxury market, Quintessentially has also launched 32 luxury sister businesses comprised of experts in every luxury division. This includes real estate, travel, luxury retail, wine, art, flowers, private aviation and more (http://www.quintessentiallygroup.com).
###