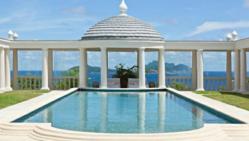 London, UK (PRWEB) August 24, 2012
Relish the relaxation of a luxury holiday and escape to one of Quintessentially Villa's enchanting properties.
The secluded island of Mustique is perfect for a private getaway, with the likes of Will and Kate holidaying on the island. Nestled in the hills lies the beautiful Rosa dei Venti, boasting breath-taking views of the Atlantic Ocean and Caribbean Sea. In addition to the large surrounding lawn and private tennis court, the villa has two stunning swimming pools that look out across the horizon. This luxury villa is ideal for those seeking sophistication, privacy and pampering for an exception team of staff.
Silver Turtle Villa, Canouan Resort
For a flawless family holiday, Silver Turtle Villa in Canouan Resort is the corner of the world one needs to escape to. There is a large infinity pool located right off the main terrace offering views of the Caribbean Sea and the beautiful barrier reef. This luxury villa has everything a family could possibly need and is only 2 minutes from the beach. If parents want to wind down in the evening there is also a nanny room and a Jacuzzi.
Villa La Cassinella, Lake Como, Italy
Villa la Cassinella is an exclusive private estate offering magnificent views. The estate is supremely private, and can only be accessed by a 3 minute boat ride. The villa is also serviced by an incredible team, meaning you don't have to lift a finger, from butlers and housekeepers to top International Chefs creating Italian feasts. Relaxation is diverse whether one wants to enjoy the watersports on the lake, relax with a range of literature by the pool and finally enjoy the evenings with a barbecue or a traditional Italian pizza from the property's pizza oven.
The Manor and the Lake House, Somerset, UK
Deep in the Somerset countryside lies this exquisite 13th century English manor house, boasting 11 bedrooms, an indoor sauna, outdoor heated swimming pool, tennis court and beautifully manicured gardens. If a group of friends want to get away from the worries of work life then this manor is the perfect setting to have fun and relax with a big group.
Azura Retreats, Benguerra Island, Mozambique
For an unspoilt island holiday free from tourists and only deserted beaches of pure white sand and sparkling turquoise seas to keep one company, Azura Retreats is an excellent way to evade everyday life and relax by a spectacular infinity pool while a butler serves drinks while guests sink into a good book. There is also a treehouse lounge that offers massages al fresco, looking out on to the wonderful views to the Bazaruto Dune. This is the perfect end to a day before relaxing under the stars with a first class meal cooked by a private chef.
To browse the exclusive portfolio of beautiful villas or to speak to an advisor about booking a villa please visit http://www.quintessentiallyvillas.com or call +44 (0)845 269 6673
About the Company:
Quintessentially Villas is a sister business of Quintessentially. Quintessentially is the leading international luxury lifestyle company. Launched in 2000 as a small London based concierge service, Quintessentially has experienced a complete transformation in a decade, and currently have offices in over 64 cities around the world. The service provided to their discerning and HNW members is proactive and personalised, catering to every member's need, from last minute restaurant bookings, travel arrangements, and access to private parties, as well as fulfilling every unusual request and successfully connecting businesses all over the world. Quintessentially can offer access to the inaccessible and can make the seemingly impossible, possible. In a bid to ensure only the very best service is delivered across the luxury market, Quintessentially has also launched 32 luxury sister businesses comprised of experts in every luxury division. This includes real estate, travel, luxury retail, wine, art, flowers, private aviation and more (http://www.quintessentiallygroup.com).