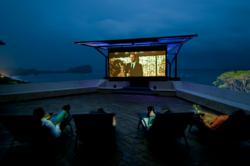 London, UK (PRWEB) July 27, 2012
Wherever someone is in the world wants to go this summer, of course they want to watch the big event on the television. Quintessentially Villa name the top 5 villas they have where people can enjoy watching the games in relaxation.
First up on the podium is the Costa Rica Villa, Punto de Vista. Perched above the jungle with a unique design and commanding views, Punto de Vista is a sure winner. Boasting 10 bedrooms, a 2 ½ acre reserve, a butler and chef service plus a home theatre on the roof terrace overlooking the jungle, sitting under the stars, while watching the sports will be unforgettable.
The Games are not only fantastic to watch but also inspires and encourages everyone to get active! At Villa Poniente one has the best of both worlds; from watching all the events on the grand outdoor cinema while swimming lengths in the oversized pool. Furthermore the 8 bedroom villa offers floodlit tennis courts; outdoor kitchen and a self catering apartment for those want to join the fun.
Stay ahead of the game with La Vallée Blanche's state of the art technology. This 4 bedroom Verbier chalet is the ultimate winner for sophisticated high tech viewers; with Apple Mac computers, IPad and IPod docks, an entertainment system and even Creston technology ensuring blinds, lighting and all TV's integrated at the touch of a button.
The Edge
Immerse yourself in spirit of the games while overlooking the cool, blue Balinese waters at The Edge. This villa complex, ranging from 1-5 bedrooms, offers stunning views, sumptuous luxury and spacious living areas, all contributing to relaxed and effortless viewing! If this proves too nerve-racking you can pop off to the spa to de-stress, ready for the next screening!
Think big, think grand, think Chateau de Bourron. Located 70km from Paris, this stately castle oozes character. Surrounded by a moat and boasting formal gardens and 6 bedrooms, Chateau de Bourron epitomises grandeur, splendour and power … all characteristics of a Gold medallist.
To browse the exclusive portfolio of beautiful villas or to speak to an advisor about booking a villa please visit http://www.quintessentiallyvillas.com or call +44 (0)845 269 6673
About the Company:
Quintessentially Villas is a sister business of Quintessentially. Quintessentially is the leading international luxury lifestyle company. Launched in 2000 as a small London based concierge service, Quintessentially has experienced a complete transformation in a decade, and currently have offices in over 64 cities around the world. The service provided to their discerning and HNW members is proactive and personalised, catering to every member's need, from last minute restaurant bookings, travel arrangements, and access to private parties, as well as fulfilling every unusual request and successfully connecting businesses all over the world. Quintessentially can offer access to the inaccessible and can make the seemingly impossible, possible. In a bid to ensure only the very best service is delivered across the luxury market, Quintessentially has also launched 32 luxury sister businesses comprised of experts in every luxury division. This includes real estate, travel, luxury retail, wine, art, flowers, private aviation and more (http://www.quintessentiallygroup.com).