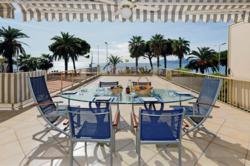 London, UK (PRWEB) May 28, 2012
Quintessentially Villas name the top 5 villas in their portfolio that can play home to the cream of the crop when staying in Cannes during this famous film festival.
Eva Longoria - QV24452
Let's begin with one of the most glamorous ladies in the industry, Eva Longoria. Wowing the crowds on the red-carpet even though petite, the star makes a big impact, just like Quintessentially Villas 2 bed property, QV24452. Boasting beautiful views of the sea front, Villa QV24452 is guaranteed to take someone's breath away. The villa has 3 receptions rooms, all with high ceilings and sea views and a terrace which can hold up to 50 guests, perfect for all that wining and dining.
Kanye West and Kim Kardashian - QV25062
The new power couple, Kanye West and Kim Kardashian are hitting the headlines in Cannes. The two "Ks" draw attention wherever they go so Quintessentially Villas have chosen one of their largest and most commanding villas in Cannes, Villa QV25062. Designed in a chic-stylish manner with impressive additional luxuries, this 10 bed villa boasts a gym, home cinema room, outdoor cocktail bar, large swimming pool, private parking and can accommodate an extensive entourage. At Villa QV25062 one is guaranteed to live the high life.
P. Diddy - QV25022
Widely acknowledged to host the biggest and best parties around, P. Diddy has thrown the biggest bash of the Cannes Film Festival so far! Inviting an exclusive batch of A-listers, P. Diddy is the King of Parties, so what better villa than one perfect for hosting celebrations, Villa QV25022. Consisting of two 19th century mansions, nestled in 4000sqm of Mediterranean Gardens, this 2 bedroom villa may not top the bedroom numbers, but it certainly tops all party villas in Cannes, capable of accommodating 300 guests. Equipped with sound system, lighting, flat screen TVs, large terraces, swimming pool and wine cellar, Villa QV25022 is the party villa!
Vanity Fair and Gucci Party - QV24852
Let's be honest, the Cannes Film Festival has turned into one long catwalk for celebrities. Constantly scrutinized and judged on their appearance, the celebs of Cannes always have to look top dollar, especially when attending a party thrown by Vanity Fair and Gucci. Stylish enough for any celebrity and eccentric enough for any fashion headliner, Villa QV24852 is a designer's heaven. Boasting 11 bedrooms and perched on a hill in the 'La Californie' area of Cannes, this property is styled in a bold and unique manner. With leopard print and pink seats in the cinema room, a life-size zebra in one of the reception rooms and brightly coloured pop-art on numerous walls, Villa QV24852 is one for the books. With a home cinema room, two saunas, an indoor heated swimming pool, gym and large outdoor terrace, this villa is stylish enough for any fashion icon.
To browse the exclusive portfolio of beautiful villas or to speak to an advisor about booking a villa please visit http://www.quintessentiallyvillas.com or call +44 (0)845 269 6673
For all press enquiries regarding Quintessentially Villas, please contact: Felicity Gale +44 (0)845 269 6673 / E: felicity(at)quintessentiallyvillas(dot)com
About the Company:
Quintessentially Villas is a sister business of Quintessentially. Quintessentially is the leading international luxury lifestyle company. Launched in 2000 as a small London based concierge service, Quintessentially has experienced a complete transformation in a decade, and currently have offices in over 64 cities around the world. The service provided to their discerning and HNW members is proactive and personalised, catering to every member's need, from last minute restaurant bookings, travel arrangements, and access to private parties, as well as fulfilling every unusual request and successfully connecting businesses all over the world. Quintessentially can offer access to the inaccessible and can make the seemingly impossible, possible. In a bid to ensure only the very best service is delivered across the luxury market, Quintessentially has also launched 32 luxury sister businesses comprised of experts in every luxury division. This includes real estate, travel, luxury retail, wine, art, flowers, private aviation and more (http://www.quintessentiallygroup.com).