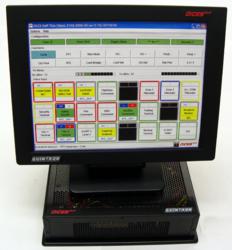 Santa Maria, California (PRWEB) November 04, 2011
Quintron Systems, Inc. (http://www.quintron.com), the recognized leader in advanced interoperable voice systems and physical access control and intrusion detection systems, is pleased to announce three additional contract awards from NASA for the Quintron DICES VoIP mission-critical voice switch. Two of these represent follow-on work with existing NASA customers, while the third is a NASA-requested expansion to an existing DICES VoIP system in use by United Launch Alliance.
The first NASA-direct contract will provide a second DICES VoIP system to Johnson Space Center (JSC). This will become a primary operating system, while the first DICES VoIP system delivered in 2010 will be deployed at another NASA site to be used as an emergency backup. This new system includes a fully-redundant central VoIP server equipped with six active T1 Gateways and one SIP Gateway for connectivity to other NASA voice systems. To enhance the overall operational reliability, Quintron will develop new software to monitor all T1 connections and provide auto-switchover to a secondary T1 based on network performance. Since JSC will now be provisioned with a backup DICES VoIP system, a new feature to support automatic database replication will also be included. The new system is configured to support 100 end user clients, all running on existing customer computers. Other features selected include encryption for all client connections, user login via centralized NASA services, and the DICES VoIP Phone Client that provides voice content via a standard phone call while the user client operational data is via standard IP connection. Delivery of the major equipment and software content was completed in early September with final updates due in early 2012, prior to NASA implementation later in the spring.
The second NASA-direct system is an expansion for the existing NASA Ames Research Center (ARC) Airspace Operations Laboratory (AOL) system first delivered in 2008. This new contract includes an upgraded central VoIP server to handle increased client load to 84 total users. New touch screen laptops will be provided for expanded FAA-style user positions for a total of 50 simultaneous air traffic control positions in addition to the simulated pilot positions operating on standard PC platforms. A number of new FAA-type software features will be incorporated along with SIP interfaces to other ARC simulation systems and expanded voice recording capacity. The new equipment will be delivered by December with the final software updates completed in early 2012.
The third NASA support contract was just received to provide an additional ten user client positions to support NASA personnel for the upcoming Mars Science Laboratory (MSL) launch aboard a United Launch Alliance (ULA) Atlas V rocket from Cape Canaveral. The major element of this exciting NASA program is the new surface rover, Curiosity. The launch is scheduled for late November and the new DICES VoIP user equipment will support NASA personnel and provide a touch screen interface consistent with their normal operating environment. Included with this order are wireless user headsets and separate external speakers to provide the most flexible operating conditions. The existing ULA DICES VoIP server was returned to Quintron for software updates and final testing with the new user stations. Expedited delivery of this entire order is being completed in less then 30 days to support this critical mission schedule.
With these new orders, Quintron now has sixteen DICES VoIP systems deployed at twelve different customer locations since 2005 providing a proven net-centric system solution for mission-critical voice conferencing.
For more information about Quintron solutions and services call 805.928.4343 or visit http://www.quintron.com.
About Quintron
For 41 years, Quintron has provided high technology, cost effective solutions worldwide to government and industry in support of mission critical communications and security requirements for command and control applications. No other company offers the depth of expertise found at Quintron in fault tolerant, interoperable communications, and security systems. In addition to providing advanced products and systems, Quintron's professional technical services capability provides a superior level of customer satisfaction. Quintron's engineering services provide off-the-shelf or customized engineering solutions to solve the toughest of challenges facing customers. Visit http://www.quintron.com or call 805.928.4343 for more information.
All trademarks in this release are the property of their respective owners.
###