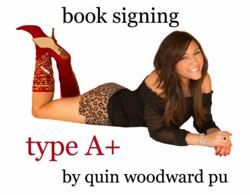 Nashville, TN (PRWEB) September 30, 2011
Quin Woodward Pu, the preeminent writer of all things cosmopolitan and fabulous, will be holding a signing of her first novel, a memoir, titled Type A+. The signing will take place at upscale boutique Posh at the Hillsboro Village location on October 20th from 6-8 PM.
When Quin Woodward Pu—a straight-A Asian-American extrovert from Georgia with a penchant for vodka, designer shoes, and older men—receives her acceptance letter from Johns Hopkins Medical School, she is forced to make a decision between giving up her hard-partying, man-eating ways and continuing her fabulous VIP lifestyle and pursuing a more glitzy and glamorous career.
Type A+ is the memoir of her transition from MCAT-teaching pre-med free clinic volunteer to directionless, yet fabulous and resourceful, freelance writer. Like many Asian-Americans, she butts heads with her first-generation Chinese father when she strays from his life plan for her to attend a top medical program. She is encouraged by her histrionic but loyal friends—from an undiagnosed alcoholic roommate, to a bohemian BFFL, to a middle-aged playboy dermatologist boyfriend —to follow her champagne-soaked dreams of becoming a journalist.
The signing at Posh promises to be celebratory, with decadent cupcakes and plenty of bubbly for attendees. Guests can also enjoy extended private shopping hours at the swanky boutique while sipping their champagne. The Thursday evening event kicks off Vanderbilt's Homecoming weekend, and the signing will bring together current students, nostalgic alumni, and Nashville fashionistas.
Posh is located in Hillsboro Village at 1813 21st Avenue South in Nashville.
Type A+ is available on Amazon.com, as well as all e-book devices such as Kindle, Nook, and the iPad. An excerpt is available online and through the Type A+ Facebook page.
About Quin Woodward Pu
Quin Woodward Pu is a memoirist, communications consultant, and a connaisseuse of all things social. She currently lives in Washington, DC, where she is a social media and public relations consultant, and where she is Editor-in-Chief of Little Black Blog. The Georgia native spends her leisure time serving on the board of multiple charities and attending social functions to raise awareness for various causes. She has sat on the Executive and Host Committees for the Capital City Ball since 2009, in addition to providing public relations support to One Home, Many Hopes; Paint the Town Red, Power of the Purse; and many other non-profit organizations.
###