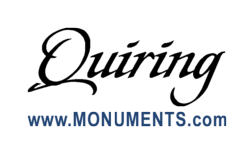 Our new website provides customers with photos of a variety of 21st century monuments...
Seattle, WA (PRWEB) February 29, 2012
Quiring Monuments, a Seattle-based industry leader in designing and creating quality custom headstones, memorials, and monuments in North America, excitedly announces the launch of its new, interactive website, monuments.com.
The purpose of the website redesign is two-fold. First, it aims to provide visitors with improved and engaging views of Quiring's online monument galleries. Second, it intends to accommodate for the growing amount of mobile traffic to the website, thanks in part to their Living Headstones® memorials, Quiring's new, cutting-edge technology.
"Our new website provides customers with photos of a variety of 21st century monuments and other valuable information," says David Quiring, Owner of Quiring Monuments. "Our Living Headstones® memorials combine the finest in memorial art with a link to a personal website where loved ones from around the world can view photos, leave messages, share stories, and preserve historical and genealogical data for future generations." For its new website, Quiring Monuments chose to partner with Webology Marketing, an online marketing company in the area.
The website, monuments.com, also features a blog, designed to share information relevant to the memorialization industry. The blog seeks to inform and educate visitors on various aspects of the memorialization process, and current blog posts include "The History of Grave Markers" and "What to Put on a Memorial."
By redesigning its website to accommodate for mobile traffic and by creating a blog to position itself as a resource on the memorialization industry, Quiring Monuments once again shows its commitment to creatively staying at the forefront of improvements and developments in the industry.
For over 100 years, Quiring Monuments has combined family tradition, experience, and compassion in helping permanently preserve the memories of loved ones through creating and designing custom headstones, memorials, and monuments. The winner of prestigious industry awards and the member of numerous industry organizations, Quiring Monuments seeks to provide excellent and intentional service to individuals and families throughout the grieving process. For more information, please visit http://www.monuments.com.
###