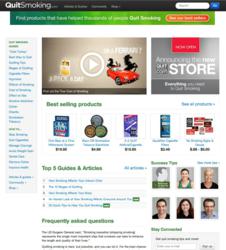 Smoking is the direct cause of 1 in 5 deaths in the United States.
Cumming, Georgia (PRWEB) March 20, 2012
QuitSmoking.com offers hundreds of articles about how to quit cigarettes and tobacco through a variety of methods including how to quit "Cold Turkey", advice on popular quit smoking medications, like Chantix and Zyban, and even information about using hypnotism to quit smoking.
The new QuitSmoking.com emphasizes the central role of community support in helping members overcome smoking addiction. The Quit Smoking forum, already one of the largest and most active quit smoking forums on the web, is now tightly integrated with every section of the website and the community is now free to comment on articles, submit their own quit smoking tips, and even rate products in the store.
Also today, the company launched its new branded Quit Smoking YouTube channel at http://www.youtube.com/QuitSmokingCom. The company released the first in an upcoming series of videos that to be featured in the next year. The video "A Pack a Day or a Ferrari: the Cost of Smoking Cigarettes" provides an impactful animated demonstration designed to make the financial cost of smoking more understandable.
The Effects of Smoking
Smoking is the direct cause of nearly 1 in 5 deaths (5.4 million annually), in the United States. Today, more than 45.1 million Americans (21%) and 1.3 billion people (19%) worldwide smoke regularly. According to recent polls, 74% say they would like to give up smoking but only 3–5% of smokers are able to give up smoking without outside help.
About QuitSmoking.com
Founded in 1997, QuitSmoking.com is the number one site worldwide for people who want to quit smoking. Through its flagship site, quitsmoking.com, and its network of more than 1,200 websites, the company provides quit smoking products, community support, and educational information to smokers who want to quit. It is estimated that since it was founded, the Quit Smoking community, information, and products have helped smokers save 425,300 years of life and an estimated $6–8 Billion in personal expenses.
If you would like more information about QuitSmoking.com or on smoking cessation, or would like to schedule an interview with Fred Kelley, please call 702-765–4848.