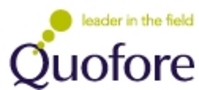 "Our sole purpose is to help companies win at retail by optimizing the efficiency and effectiveness of reps in the field. Our experience in quick, cost effective multi-region rollouts is helping these multinationals gain early market advantage[...]"
Atlanta, GA (PRWEB) February 16, 2011
Quofore, a world leader in retail execution and sales force automation software solutions for global Consumer Products companies, announced today that it has received $5.25 million in Series-B funding from the company's founding shareholders alongside existing investors, ABS Capital Partners, a leading growth equity investor. The company also announced that it had added seasoned software executive, Tom Thomas, to the board of directors.
Commenting on the latest round of funding, Quofore Chairman and CEO, Desmond Miller, said it would help the company fast track its growth in emerging markets. "All of our global customers are focusing their attention on the boom in retail spending in the high-growth economies of Latin America, Eastern Europe and the Asia Pacific region," said Miller.
Quofore has gained widespread industry recognition for the speed and breadth of its global deployments, with Quofore software now running in more than 35 countries and in multiple languages. World-leading Consumer Products companies using Quofore include Procter & Gamble, Kraft, Kellogg, Unilever and Mars Wrigley.
"Our sole purpose is to help companies win at retail by optimizing the efficiency and effectiveness of reps in the field. Our experience in quick, cost effective multi-region rollouts is helping these multinationals gain early market advantage across emerging economies."
Working with a growing ecosystem of local partners, Quofore is currently rolling out projects across more than a dozen countries. Their live implementations include more than 1,300 users across three Eastern European countries, more than 11,000 field personnel in China, and a multi-region deployment across 11 countries with typical time to 'go live' of just 6 weeks.
Quofore has attracted software industry pro Tom Thomas to its board of directors. Tom brings to Quofore extensive board experience and more than 35 years of successful software industry executive leadership as both a software vendor CEO and a corporate CIO.
"We are delighted to have Tom on board at this important stage of our company's life," said Miller.
Tom Thomas most recently served on the board as Executive Chairman of International Decision Systems and is the former President and CEO of GXS, Inc., a leading worldwide technology provider of business-to-business EDI and supply chain integration, synchronized and collaboration solutions. He has also served as President and CEO of Haht Commerce, Inc. and Ajuba Solutions and was previously Chairman, President and CEO of Vantive Corporation, a public company and leading CRM software vendor acquired by PeopleSoft.
Before joining Vantive, Tom was Senior Vice President of E-Business and CIO at 3Com, Palm, and Dell Computer, as well as a Vice President at both Kraft Foods and Sara Lee.
About Quofore
Founded in 1998, Quofore is recognized as the international leader in mobile software solutions for field representatives in Consumer Products companies.
Companies using Quofore solutions are able to drive competitive advantage through their management and execution of field sales, merchandising, promotions, in-store audits, direct delivery activities and van sales. Incorporating world's best practice, Quofore solutions reflect the experience and domain expertise gained from over a decade of specialized industry focus, working with customers in more than 35 countries in both modern trade and emerging markets.
Quofore markets its software worldwide through its regional offices in the Americas, EMEA and the Asia Pacific region, and works closely with its partner ecosystem to service and support its customers worldwide. Quofore has delivered solutions to customers across six continents including leading global corporations such as Procter & Gamble, Unilever, Kellogg, Kraft, Mars Wrigley, Brown-Forman, Dyson, and Black & Decker.
For more information, visit http://www.quofore.com.
About ABS Capital Partners
ABS Capital Partners is a growth equity firm investing in the very best late-stage growth companies, partnering with CEOs to create a bridge to the next critical stage of success. Whether success is defined as a winning IPO like American Public Education, Neustar and Rosetta Stone or a rewarding sale such as US Labs, Course Advisor and Advanced Disposal, ABS Capital's financial backing and active partnership supports the CEO in tackling the challenges of rapid growth and creating significant long-term value.
Our partners are highly experienced at working with growth companies—each having spent between one and three decades in their industry as C-level executives, investment bankers and investors. Our practical, down-to-earth approach enables a strong partnership to determine and achieve well-defined goals. Our extensive network of resources delivers vital industry connections to our portfolio companies enabling them to capitalize on their competitive advantage.
ABS Capital Partners specializes in four growth sectors—business services, health care, media and communications and technology. With over $2 billion raised since inception, including $420 million in our latest fund, ABS Capital continues to build on its strong reputation for teaming with market leaders to deliver strong returns to investors.
For more information, please visit http://www.abscapital.com.
# # #