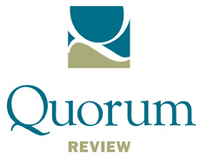 Our Board can respond more quickly to new safety information than ever before.
Seattle, WA (PRWEB) January 15, 2008
Quorum Review IRB, an accredited ethics review board, is proud to announce new service offerings for 2008, including:

One-day review and delivery of site submissions-- just one business day from submission to review documents in hand for qualifying sites
Daily review of proposed amendments
New Phase I and Phase IV service packages
1-time CV and audit submission
Electronic Portal with all documents available --secure instant access to all correspondence sent by Quorum
An REB to review Canadian studies and Quorum support staff fluent in French
A centralized review process for national ad campaigns allowing sponsors/CROs to designate level of administrative support
"We are especially proud of our ability to review amendments every business day," says Quorum's CEO Cami Gearhart. "Our Board can respond more quickly to new safety information than ever before."
Quorum IRB also has new service packages that acknowledge the unique needs of Phase I and Phase IV studies.

Dedicated Phase I team with prompt response times and an understanding of Phase I recruitment and consenting requirements
Phase IV process for observational studies, registry studies and other minimal risk studies with competitive pricing, increased use of expedited review and streamlined submission forms
As always, Quorum continues to offer our standard best-in-class services:

Single point of contact
Board meetings 3 times a week for protocol review
Quarterly metrics
Daily expedited review for site submissions, advertising and some consent form amendments
Site Start up report available on the portal -- enabling sponsors to check the status of all sites in real time
No submission of 1572 required
No submission of hardcopy of US medical license required
For information about Quorum Review services:
http://customerrelations@quorumreview.com
QuorumReview.com
Contact:
Arri Burgess
Director of Customer Relations
Quorum Review
206-448-4082
http://www.quorumreview.com
About Quorum Review
Quorum Review IRB is an independent ethics review board that is fully accredited by the Association for the Accreditation of Human Research Protection Programs (AAHRPP) and has been providing ethics review of drug and device trials since 1992. Quorum oversees research in accordance with U.S. and Canadian human research subject protection regulations, guidelines set forth by the International Committee on Harmonisation (ICH), and principles of the Belmont Report.
###