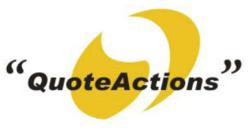 With QuoteActions in place, a business can be top-of-mind all year long, not just at the holiday season. When a customer wants to reorder or a prospect wants to buy your product or service, they think of and call you first," said Rick Itzkowich
La Jolla, CA (PRWEB) December 26, 2012
The creators of QuoteActions, an automatic email CRM follow-up system, recognized its fifth anniversary today. Rick Itzkowich Consulting in conjunction with Productive Learning & Leisure, launched the email marketing service in December of 2007, resulting in thousands of motivational quotes combined with suggested positive actions being sent to business' clients and prospects.
QuoteActions is a unique and easy, fully-automated client relationship management marketing system. All of the quotes and actions are pre-written and go out to a businesses' opt-in email list as scheduled by the business. All are verified with double opt-in security. The stay-in-touch emails are designed for businesses who do not have the time, staff or money to contact current customers or new prospects on a regular basis. Contacts are personally invited to receive a business' QuoteActions with a custom subscriber link. The contacts' emails are privacy protected, never sold or traded.
The text-based QuoteActions are short inspirational and motivational quotes, accompanied with an action item. An example of a "QuoteAction of the Day" would be: "You cannot live a perfect day without doing something for someone who will never be able to repay you." John Wooden, Legendary Basketball Coach. Your action for today is to make an anonymous donation or do something nice for someone without them finding out you did it.
The program not only solves the "we don't have time to stay in touch" problem, but also makes a consistent positive impression. After the initial set up, which includes the sender's contact information, company tagline, logo or photo, the system runs automatically.
"QuoteActions is easy to setup and is very affordable. With one low monthly fee I can send the messages to as many people as I want," said Send Out Cards Representative, Jim Pitman. "After I introduce new people to SOC, I invite them to start receiving my QuoteActions -- whether they do business with me or not. The benefits of sending personalized greeting cards, plus QuoteActions are that they're both great ways to keep-in-touch and let people know I care about them."
"It's quite fitting to celebrate our anniversary during the holiday season. It's the one time of year businesses make an effort to reach out to their customers with cards and gifts," said creator Rick Itzkowich. "With QuoteActions in place, a business can be top-of-mind all year long, not just at the holiday season. When a customer wants to reorder or a prospect wants to buy your product or service, they think of and call you first."
For more information go to http://www.quoteactions.com.
About QuoteActions™
QuoteActions is a Rick Itzkowich Consulting and Productive Learning & Leisure LLC product and service. Created in 2007, the email marketing tool is specifically designed by marketing professionals for solopreneurs, entrepreneurs, independent contractors, sales people, MLM executives, and small business owners. Industry sectors who benefit from using an automated system to stay top-of-mind are: financial planners, insurance agents, real estate agents, home improvement contractors, dentists, chiropractors, hair stylists, printers, veterinarians, and other similar professional service businesses. For more information, visit http://www.quoteactions.com.