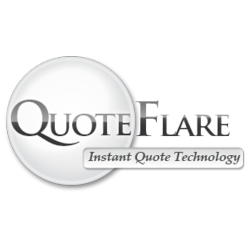 It turns any website into much more than just an oversized, overpriced business card.
Mesa, Arizona (PRWEB) May 02, 2013
QuoteFlare.com announced it will launch its instant quoting technology - QuoteFlare Quote Center - on Friday May 3rd for use by service companies. "Whatever your services may be, you can customize a Quote Center to provide your visitors a seamless experience on your existing website and receive a quote with an array of options to choose and let them book without even picking up the phone." QuoteFlare Quote Center is already being utilized by companies in a wide variety of industries including pest control, plumbing, maid service, window cleaning, and carpet cleaning. "There really is no end to what kinds of services you can use QuoteFlare for," says Lawlor. The site has a demo area where several different Quote Center examples can be seen and tried here.
After years of pioneering "phone quotes" for window cleaning and related services, Josh Lawlor began to conceptualize a system for providing instant quotes from his window cleaning company's website. "I remember thinking a software that could provide my website visitors what they are really looking for would entirely change my business!" Lawlor says. He went on to create what he envisioned with the help of co-founders Danny Dean and Casey Lawlor in the form of QuoteFlare.
"Instant quoting with QuoteFlare has a number of positive effects on companies which utilize it, most notably, it increases revenues. Increased sales and ticket size are due to easier access to your services and more options to choose from, compared to over the phone." "QuoteFlare lets companies provide potential customers with what they are looking for much quicker and easier than their competition. It turns any website into much more than just an oversized, overpriced business card," states Lawlor.
QuoteFlare not only provides visitors with an instant quote (which they can continue to access and book from their email inbox) but it also provides detailed data and reporting. "You really get a finger on the pulse of your business over time with the built in reporting features," boasted Lawlor. With the features, the number and value of quotes and bookings over any period of time can be viewed and compared as well as closing ratios. Marketing sources are tracked to allow companies to compare useful data from multiple sites and multiple Quote Centers and see what services are selling.
Other benefits of using QuoteFlare include substantial gas and time savings from less on-site estimating, ease of scheduling of prebooked services, and cross-marketing of different services to interested customers to increase sales. QuoteFlare also lets companies customize and make instant changes to Quote Centers from their QuoteFlare.com account.
"Your website truly becomes your greatest salesman, all day, all night, all week, and all weekend," says Lawlor. "It finally gives you a way to connect with the majority of visitors who really just want to interact with your site until they have made a decision to buy, as opposed to bouncing to the next site without any actions."
QuoteFlare is currently offering new users their first month for only $1, no initial setup fee, and there are no contracts.