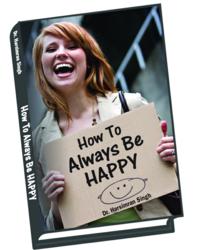 By maintaining a positive frame of mind, all the problems confronting you will surrender before you.
Upper Brookville, NY (PRWEB) April 20, 2012
Dr. Harsimran Singh is the first to do many things. He is the first Author in the 2000 year history of Christianity to write about the Spiritual aspects of Christianity. He also wrote a book on The Power of Prayer and 10 World Religions. He has been praised by leading authors as, "Super genius author...extensive knowledge...real contribution...applaud author's research...absolutely astounding...admirable job…great asset…touched deeply...commendable work..".
He is first to extract the spiritual knowledge from all religions combined and practice it in the form of meditation. He wrote 13 inspirational books and has held hundreds of seminars teaching how to achieve physical, spiritual and financial richness by the practice of meditation.
Because of increased demand, Dr. Singh is now forming a nationwide group of people who may like to benefit from his weekly seminars on meditation by conference telephone calls. In Dr. Singh's words, "It all starts with thoughts. Thoughts become words, words become actions and repeated actions become habits. Gaining excess weight or stress is a direct result of bad habits. To achieve success in life, habits must be changed. It is very difficult to change habits as they are rooted at the very deepest levels of our subconscious mind."
How can one change these deep-seated habits?
Meditation is the process through which one engages the subconscious with the conscious level of our mind. This way the power of mind is increased tremendously as the subconscious is a million times more powerful than the conscious level of mind. Meditation takes the mind to the deepest levels of the subconscious, where the mind controls the body, not the other way around. The mind, in this powerful state, is able to dictate that the body by changing some habits which are the root cause of the problem.
For a limited time, Dr. Harsimran Singh will practice meditation with the members every week from 9.00 AM -9.30 AM starting Sunday, April 22, 2012 through a telephonic conference call.
Send us an e-mail at seminar(at)howtobehappysite(dot)com with your name and email address and you will be provided with a conference telephone number.
About Dr. Harsimran Singh:
Dr. Harsimran Singh is a philanthropist who gave up millions of dollars to establish charitable institutions. He has moved thousands of homeless people into decent housing. He has been featured in Fox News, CBS, and many other TV and radio programs. The NY Times, NY Post and many other newspapers have written full-page articles about his accomplishments. Writing books has been his way to give back to the people of America, where he landed with almost nothing. He loves to encourage people through his public speaking engagements and by providing free meditation classes.