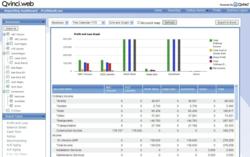 We are pleased with the ease of implementation and the powerful capabilities Qvinci.web has afforded us thus far. We look forward to enhanced insight and better business practices as we continue with this product.
(PRWEB) April 06, 2011
Austin, TX (PRWEB) April 6, 2011 -- A successful Qvinci.web pilot program was carried out with Aire Serv, one of the concepts within The Dwyer Group network. Aire Serv is in the process of rolling Qvinci.web out to more than 180 franchises.
Says Chris Elmore, VP of operations for Aire Serv , "In addition to providing a very powerful and unique diagnostic and tracking tool, Qvinci has given us valuable insight into our franchisees' business processes. As a result, we have not only used the tool to help drive financial improvement but have used Qvinci to improve our system and processes."
Qvinci.web is the cutting edge franchise reporting solution. It collects, consolidates and reports on 1000's of QuickBooks files from many locations in seconds. The ease of use and implementation, particularly as it allows franchises to set up their network in any way they wish and offers account mapping to standardize disparate charts of accounts, makes Qvinci.web one of a kind. Its patent-pending sync technology and robust reporting capabilities make it the most powerful franchise reporting solution on the market.
In addition to its reporting capabilities, Aire Serv has found Qvinci.web to a useful diagnostic tool.
Says Elmore, "We knew we would gain valuable information that we had previously gotten only on a hit or miss basis. What we did not expect is the invaluable discovery process that resulted. As we began to dig into the data we realized that our franchisees were having issues with data entry. Upon further inspection into the issues, we discovered that that we needed more training and focus on the specific business processes that had to happen on a daily basis. As a result, we have modified and added to our existing training to begin reversing the issues with the daily processes."
Along with basic reporting capabilities, key features include:
-Consolidation of many Quickbooks files
-Internet based reporting over highly secure connections
-Franchise Analysis and Benchmarking
-Side-by-Side Business Comparison
-Account Mapping to standardize charts of accounts
-Early-warning email alerts
Qvinci .web is the only solution to offer instant visibility at the unit, region and network levels. Along with consolidation and reporting capabilities, the solution offers an unlimited number of users the ability to log in and view reports. Its ease of use and low-cost pricing structure make it an ideal solution for every member of the franchise network.
Elmore concludes, "We are pleased with the ease of implementation and the powerful capabilities Qvinci.web has afforded us thus far. We look forward to enhanced insight and better business practices as we continue with this product."
About Qvinci Software:
Qvinci Software was founded in June of 2007 as a data-visualization software company focused on providing best-of-class financial accounting and reporting tools for small and medium-size businesses. Since then Qvinci has grown into a team of entrepreneurs, engineers, and business professionals all with the same goal: to provide the best products to small business owners in order to improve their success.
Qvinci.web, their latest innovation, is an advanced web application that aggregates QuickBooks company files from multiple locations and provides meaningful side by side and aggregate reporting for your businesses.
About The Dwyer Group, Inc.®:
The Dwyer Group, Inc., based in Waco, Texas, is a holding company of seven franchise businesses, each selling and supporting a different franchise under the following service marks: Aire Serv®, Glass Doctor®, The Grounds Guys™, Mr. Appliance®, Mr. Electric®, Mr. Rooter® (Drain Doctor in the UK and Portugal), and Rainbow International®. Collectively, these independent franchise concepts offer customers world-wide a broad base of residential and commercial services. In addition, Dwyer operates glass shops in New England under the Portland Glass brand name. The Dwyer Group is a portfolio company of TZP Group LLC, a private equity firm based in New York that focuses on control investments in business and consumer services companies with enterprise values generally up to $200 million. For more information on The Dwyer Group, or its franchise concepts, visit the company's web site at http://www.dwyergroup.com.
About Aire Serv®:
Established in 1992, Aire Serv is a global franchise organization providing installation, maintenance and repair of heating, ventilation, air conditioning and indoor air quality systems. Recognized by Entrepreneur magazine among its "Franchise 500," Aire Serv franchisees provide these services to both residential and commercial customers at more than 180 locations in the United States and Canada. Aire Serv is a subsidiary of The Dwyer Group, Inc. For further information or to find the location nearest you, visit AireServ.com.
###