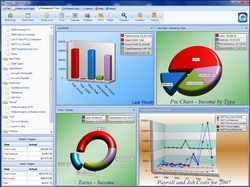 All our clients are driven by need. Business owners and management personnel need timely and accurate financial data in order to make informed business decisions
San Marcos, TX (PRWEB) March 20, 2009
OSI Business Services, LLC, a premier outsourced accounting and bookkeeping firm, has adopted Qvinci® as part of the services offered by their firm. OSI's commitment to excellence in their field and to customer service makes Qvinci® a perfect solution to provide to their clients.
"All our clients are driven by need. Business owners and management personnel need timely and accurate financial data in order to make informed business decisions," Bill Gerber & Dennis Najjar, CPAs and owners of OSI Business LLC, stress, "OSI has developed standardized processes and procedures to capture business activity and design reports that provide our clients with the data to run their companies.
With Qvinci® we can graphically show all these reports in real time to the clients. From the basic AP/AR and bank balances to the high level controller's work like budgets, forecast, proformas and ratios."
By implementing Qvinci's® terminal server version (hosted online), OSI now offers the following unique services to their client-base:

Qvinci® Pro is hosted by OSI for their clients' convenience.
Financial and operational data is displayed graphically in a very easy-to-use dashboard.
QuickBooks® and Excel® data is available in real-time with the click of a mouse.
Powerful early warning indicators, forward-looking tools, proformas, and ratios are provided.
The expertise of OSI members in conjunction with Qvinci® capabilities for optimal results.
Qvinci® is a low cost, easy to use dashboard that aggregates and displays both QuickBooks® and Excel® data. It also offers many powerful tools for the small business manager in an easy to understand and use format. Qvinci® gives visibility into all aspects of a business through its cutting edge query engine and powerful trending capabilities.
OSI is nationally recognized as a 100% US based outsourced accounting & bookkeeping firm dedicated to quality and personalized customer service. OSI believes that successful businesses are built and maintained by focusing on activities that generate revenue. To enable their clients to focus on such activities, OSI provides them with a full-service outsourced accounting department to handle everything from day-to-day bookkeeping tasks to high level controllership services with weekly, monthly and annual financial reporting.
OSI has received various distinctions and awards including the Forbes Award and The CPA Technology Advisor "40 Under 40" Award.
###