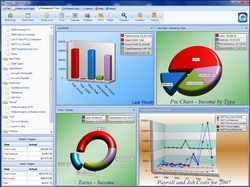 We have been searching for an add-on to QuickBooks that gives business owners and management a visual representation of how their business is performing with graphs and key performance indicators
San Marcos, TX (PRWEB) April 29, 2009
Siegel and Associates, LLC and Qvinci™ Software strategically partner to provide Qvinci™ Pro to the Siegel and Associates' client base. A full service bookkeeping and accounting firm that offers part-time CFO services, QuickBooks® Pro Advisor services, consulting, and much more, Siegel and Associates adds Qvinci's financial management and dashboard reporting to expand their wide array of expert services.
"We have been searching for an add-on to QuickBooks that gives business owners and management a visual representation of how their business is performing with graphs and key performance indicators," said Jeff Siegel, owner of Siegel and Associates, "Qvinci has solved that problem with a highly customizable product that works seamlessly with QuickBooks."
A low cost, easy to use dashboard, Qvinci™ aggregates and displays both QuickBooks® and Excel® data. It also offers many powerful tools for the small business manager in an easy to understand and use format. Qvinci™ gives visibility into all aspects of a business through its cutting edge query engine and powerful trending capabilities.
Key Features include:

All financial and operational data displayed graphically in a very easy-to-use dashboard.
A powerful query engine that can draw any data from a QuickBooks® file.
QuickBooks® and Excel® data is available in real-time with the click of a mouse.
Powerful early warning indicators, forward-looking tools, proformas, and ratios.
Both parties agree that offering the services and tools to foster the success of their clients is of the utmost importance. Siegel adds, "We are now offering this product to our more than 250 QuickBooks clients and are planning on bundling it with future clients who use our QuickBooks related services."
Siegel and Associates, LLC is an Intuit Solutions Provider and an Authorized QuickBooks® Affiliate. Siegel and Associates join the Qvinci Guru Program as Master Gurus, the highest partner level. The Qvinci Guru Program brings CPAs, Bookkeepers, and Consultants into a partnership with Qvinci for their mutual benefit. Qvinci™ Software is a QuickBooks® Silver Developer.
Click Here to download Qvinci Basic for free.
###