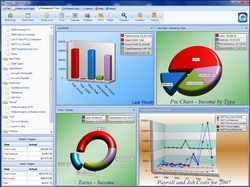 San Marcos, TX (PRWEB) August 10, 2009
Qvinci® Software now offers a free trial of the Qvinci Pro. The new offer is a free 7 day trial of the Pro version, letting small businesses experience Qvinci's full capabilities and delve further into their finances. Charles Nagel, CEO of Qvinci Software, said about the new trial, "This time trial allows the user to completely exercise Qvinci at no cost. They can see all their own data, customize their own dashboard, and realize the value of having the capabilities that Qvinci offers at their fingertips. A pile of numbers is forgotten immediately, a picture lasts all day."
The company already offers a free version called Qvinci Basic that has limited capability. The user can see their data within a premade dashboard but other tools are not available. However, Qvinci Basic is a free download with no time limit.
Unlike Qvinci Basic, the 7 day time trial has full functionality allowing the user to:
-Build charts to see their running P&L, Aging Reports, Top 10 customers, and much more
-Import Excel and build charts
-Use built-in tools like ratios, cost of a mistake calculator, and many more.
To download the free 7 day trial, users must register on the Qvinci website. There is no financial obligation.
Qvinci Software specializes in small business solutions. The Qvinci Suite offers small business owners the ability to easily interpret financial data and gives point and click tools to help with management and decisions. Each version of Qvinci offers increasing functionality up to Qvinci Pro which includes aggregating and displaying both Excel® and QuickBooks® data, Proforma, Early Warning Indicators, Drill Down, Various Ratios, Cost of a Mistake Calculator, and many more powerful tools.
Please visit the Products Page to learn about the different capabilities of each version and which one best suites your business needs.
Qvinci® Software is a QuickBooks® Silver Developer.
Visit the Qvinci website for more information and to see videos of the program actually running.
# # #