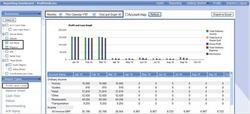 After conducting a year-long assessment, Uni-Data believes that Qvinci's features set it apart from other Business Intelligence suites..."
Austin, TX (PRWEB) January 4, 2011
Qvinci Software announces a new partnership with Uni-Data & Communications, Inc., as a hosting partner. Through this partnership Uni-Data adds another level of service to its already robust cloud computing services.
Says Charles Nagel, CEO of Qvinci Software, "We are pleased to partner with Uni-Data to offer Qvinci through their hosted environment. The value add to their clients is enormous. Franchisors get the ability to consolidate and report across their franchise network and end users have easy access to their important financial data. All reporting is done over the web, so there is a high level of usability for end users, managers, franchises executives alike. Qvinci.web also saves tremendous amounts of time for every user in that data can be synced automatically and in a consistent format relieving all parties of the need to create, format and email or fax reports. And the topping on the cake is that users are able to do this without opening QuickBooks or working all weekend ."
"Uni-Data is pleased to offer Qvinci to our Remote Desktop clients" said Bob Babcock, Director of Sales and Marketing for Uni-Data, "as businesses migrate to the Cloud, the ability to draw financial data from multiple businesses stored in a common environment for use in reporting, comparison and benchmarking efforts greatly enhances the business owner's insight into their performance. After conducting a year-long assessment, Uni-Data believes that Qvinci's features set it apart from other Business Intelligence suites we've examined, and will provide Franchises, multiple business owners and accountants a robust tool for benchmarking and monitoring the financial health of their companies."
Qvinci.web offers the ability to consolidate and report on many QuickBooks files in seconds. Instant access to aggregated P&L's, Benchmarking, Balance Sheets, early warning indicators and other reports give an unprecedented level of insight into financial data. Along with consolidation and reporting capabilities, the solution offers an unlimited number of users the ability to log in and view reports.
This partnership brings together two premier solutions for Franchise systems. Qvinci adds reporting depth and ease across franchise networks to Uni-Data's premier hosting capabilities. Both parties will be present at the International Franchise Show in Las Vegas in February 2011. Visit booth #207 for more information about the services these two companies offer.
About Qvinci Software:
Qvinci Software was founded in June of 2007 as a data-visualization software company focused on providing best-of-class financial accounting and reporting tools for small and medium-size businesses. Since then Qvinci has grown into a team of entrepreneurs, engineers, and business professionals all with the same goal: to provide the best products to small business owners in order to improve their success.
Qvinci.web, their latest innovation, is an advanced web application that aggregates QuickBooks company files from multiple locations and provides meaningful side by side and aggregate reporting for your businesses.
About Uni-Data & Communications, Inc.
Uni-Data & Communications, Inc. provides cost-effective Information Technology and Cloud Computing Solutions to small and medium businesses and franchise systems, utilizing best-in-breed technologies in SAS70 type II data environments, and supported by a 24 x 7 x 365 U.S. based service desk. Uni-Data is an Intuit Authorized Commercial Host of QuickBooks™ Pro, Premier and Enterprise accounting solutions.
Since 1989, Uni-Data & Communications, Inc. has exceeded clients' evolving technology needs by providing consultation, project management and staffing for mission critical technology applications. Every day, Uni-Data fields hundreds of expert technical personnel at dozens of client locations throughout the United States and Europe. Clients include Fortune 100 companies across the business spectrum- from Banking and Financial Services to Medical and Pharmaceuticals to Entertainment and Broadcasting.
###