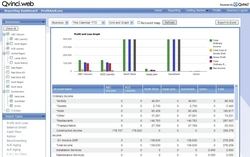 The launch of Qvinci.web is the culmination of 18 months of collaboration and development with some of the premier leaders in the small business accounting and business analysis markets. - Charles Nagel, CEO of Qvinci Software
Austin, TX (PRWEB) December 6, 2010
The Austin based software company recently launched the next generation of its data-visualization software. This web-based version utilizes patent-pending technology to sync and aggregate up to 1,000 QuickBooks files from any geographic location in less than 7 seconds. The application provides an unprecedented level of business intelligence, particularly in the franchise and multi-location business space. Users are able to view reports across 1 or more businesses via the internet without the need to launch QuickBooks.
Charles Nagel, CEO of Qvinci Software, released this statement: "The launch of Qvinci.web is the culmination of 18 months of collaboration and development with some of the premier leaders in the small business accounting and business analysis markets. We have created an affordable yet highly scalable solution that extends the visibility and usability of QuickBooks data across 1000s of company files in a matter of seconds."
New Features available in Qvinci.web include:

The ability to sync up to 1,000 QuickBooks files from any location in seconds
Automated consolidation of multiple QuickBooks files
Side-by-side business analysis, multi-location benchmarking, etc
Automated sync scheduling
Auto-mapping of diverse charts of accounts into a standardized format
Charles H. Musgrove, Jr. a CPA with CFO Bean Team, LLC describes Qvinci.web as "an easy to use tool that provides key financial information via emails and more detailed financial reports via the web portal. Business owners and managers are informed timely and have their information available for review at all times. Qvinci constantly improves the financial solutions it offers and this is a great enhancement. It is a 'must have' inexpensive and valuable financial reporting tool."
In the web version, Qvinci Software will continue to offer a special program for CPA's and Pro Advisors to provide these capabilities to their clients as well as offering the solution directly to end users.
About Qvinci®
Qvinci Software was founded in June of 2007 as a data-visualization software company focused on providing best-of-class financial accounting and reporting tools for small and medium-size businesses. Since then Qvinci has grown into a team of entrepreneurs, engineers, and business professionals all with the same goal: to provide the best products to small business owners in order to improve their success.
Qvinci.web, their latest innovation, is an advanced web application that aggregates QuickBooks company files from multiple locations and provides meaningful side by side and aggregate reporting for your businesses.
###