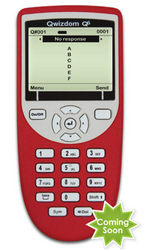 Austin, TX (PRWEB) February 9, 2010
Most American educators are familiar with Qwizdom's interactive classroom technology, but only those attending the Texas Computer Education Association Conference this February will have the unique opportunity to squeeze in hands-on time with the company's newest hardware release – the Q6 student response system.
Available for pre-order in late march of this year, the Qwizdom Q6 Student Response System is unique in that it offers more opportunity for collaboration than with any previous system, including an easy-to-use keypad similar to a cell phone, text input and a larger LCD screen to view full responses. The small, ergonomic radio frequency remotes allow each student to communicate with the teacher from up to 328 feet away and are durability-tested to withstand the rigors of the classroom.
As the teacher presents questions on a screen, verbally, or by using paper-based activities, pupils enter responses with their remotes. The teacher's computer instantly receives the responses and records the results, allowing the freedom to easily manage and control the format and speed of the lesson. The instant response also allows the educator to gauge students' overall comprehension or to zero in on a struggling pupil. In turn, a student is notified when their response has been received and can silently signal the teacher for help, easing the fear of judgment by peers or falling behind in class.
The device's 1.8 × 1.5" LCD screen allows for up to 116 character input per transmission. Multiple mark, numeric, sequencing, rating scale, yes/no, fractional/decimal, multiple choice, true/false, and short answer questions are all supported by the Q6. Battery life is a year on average.
Software used with Q6 remotes is both PC and Mac-friendly, integrating easily with PowerPoint® and Keynote®. Additionally, Qwizdom Connect software works with hundreds of thousands of pre-made curriculum resource slides.
For more information, visit Qwizdom online at http://www.qwizdomnews.com.
About Qwizdom, Inc.:
Qwizdom provides integrated education technology solutions for thousands of schools throughout the U.S. and U.K. Striving to make learning both effective and engaging, Qwizdom offers the most advanced radio-frequency classroom response technology (patents pending), a complete software learning system, more than 150 interactive curriculum programs, and a digital learning network. Founded in 1984, Qwizdom has offices in the Seattle area, Cleveland, and the United Kingdom. For more information, please visit http://www.qwizdomnews.com .
###