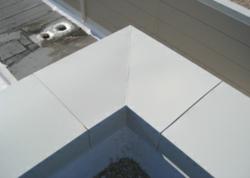 The R-Mer Edge system makes it timely and convenient to comply with the ES-1 standard.
Cleveland, OH (PRWEB) May 05, 2011
The Garland Company, Inc. announces important upgrades to its already high-performing R Mer Edge® fascia and coping systems for low-slope roofing. A properly designed metal edge system is the first line of defense against high winds. The improved R Mer Edge systems have been tested by an independent lab and are certified to conform to ANSI/SPRI ES-1, which formalizes the International Building Code (IBC) specifications for resistance to wind-related failures.
According to commercial insurer FM Global, 59 percent of insured losses involving built-up roofing (BUR) were the result of edge-securement failure. The insurance industry estimates that wind-related events cause more than half of all insured disaster losses, which amounted to over $300 billion between 1988 and 2007.
Similar observations have been made by the Roofing Industry Committee on Weather Issues (RICOWI), a nonprofit research organization assisted by Oak Ridge National Laboratory. Catalyzed in part by Hurricanes Charley and Ivan in 2004, one RICOWI report states explicitly, "codes that require secure roof edging [need] to be enforced."
Tom Diamond, E.I., Garland metal products manager, reports. "Proper edge securement is too often overlooked because it is there to prevent episodic, rather than perpetual, conditions. What people forget is that when a high-wind episode does occur, the results can be catastrophic. We are not talking about a gradual failure due to natural degradations of performance over time. We are talking about a single episode resulting in immediate and devastating roof failure. The R-Mer Edge system makes it timely and convenient to comply with the ES-1 standard."
Some of the performance improvements in the new edging systems enabling ES-1 compliance are:
• A streamlined cant dam profile for R-Mer Edge fascia

Improved geometry on the inside leg of R-Mer Edge coping
Elimination of exposed fasteners that can back out and create leaks
As an added bonus, the new edging is even more aesthetically appealing, and can be post-painted to match or complement any color scheme. Contractors can Web-access a Technical Application Video for comprehensive installation guidelines.
The Garland Company, Inc. is a worldwide leader of quality, high-performance roofing and building maintenance systems for the commercial, industrial and institutional markets. For over 100 years, Garland has continually developed unique product and service offerings that raise industry standards of performance in order to meet the technical performance requirements of a wide range of challenging waterproofing applications throughout the world. Its 200 local representatives are strategically positioned throughout the United States, Canada and the United Kingdom to provide integrated product and service solutions for single and multi-property facilities. The Garland Company, headquartered in Cleveland, Ohio, is an ISO 9001:2008 certified company.
For a free roof inspection or for more information, visit the Garland Web site or call toll=free to be connected with your local Garland representative at 800-321-9336.
###