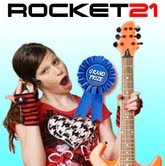 Winning this contest gave me hope that just maybe my dreams for becoming a sing/songwriter might actually be a possibility," said Charlotte Graham, 13. "Thanks so much for the encouragement.
San Francisco, CA / New York, NY (PRWEB) February 09, 2012
Rocket21 (the new social network where kids explore amazing possibilities for their lives and futures) and West Coast Songwriters (the most active non-profit music organization in the U.S., offering education, opportunity and networking to songwriters) announced the winners of a two month national youth songwriting contest. The contest, presented on Rocket21.com and sponsored by West Coast Songwriters, encouraged self-expression and creativity among youth by encouraging them to write lyrics about anti-bullying, their dreams for the future, love and more.
"Dream in Tune" is the latest wave in Rocket21's "Dream Here -- Dream Big" Contest Series. Students from across the country competed online at Rocket21.com, and received guidance and encouragement from a panel of successful music industry professionals.
Charlotte Graham, an 8th grader from the Chicago area, was selected as the Grand Prize Winner for her song "Together Make it More." "I have worked very hard singing, playing guitar and eventually writing my own songs. Just having the opportunity to enter this contest, get professional feedback and then win gave me hope that just maybe my dreams for becoming a singer-songwriter might actually be a possibility. Thanks so much for the encouragement. I really needed it!" said 13-year old Graham. Ms. Graham will experience an unforgettable evening as the guest of a Recording Academy member at the 54th Annual Grammy Awards on February 12th.
"The range of topics kids and teens chose to write about (concern and pride for siblings in the military, love for their moms, appreciation for far-flung friends, thought-provoking songs against bullying, and so much more) was extraordinary. The depth of emotion, passion, and earnestness that they brought to the project was inspiring. So much so that we're about to announce a second round of competitions for songwriters," said Rocket21 President and COO Jodell Seagrave. Click here for a contest recap, photos of the winners, a link to the winning lyrics, and a video compilation from the contest.
"West Coast Songwriters was delighted to be a part of the competition, and to help kids share and refine their personal expression through songwriting as well as to nurture their love of music. We reached out to a group of extraordinary PROs to participate – and we were each blown away by the intensity of the competition and the quality of the kids' writing," said Ian Crombie, Executive Director, West Coast Songwriters.
2nd place went to Sydney Cearlock, from Decatur, Il. in recognition of her song "Thanks to You," a heartfelt tribute to her mother. Lodi, New Jersey student McKenna Pope was selected as 3rd place winner for "Rising Up," a passionate song about finding confidence. And Fayetteville, Georgia teen Amber Hartel scored 4th place, for her "Path to Nowhere," a powerful anti-bullying tune. Other prizes included studio quality headphones, Rocket21 apparel, and opportunities to attend an online songwriting clinic.
About Rocket21
Rocket21 provides unprecedented access to world-class experts and organizations while protecting them with a combination of state-of-the-art, real-time filtering and human moderation, extensive safety and security precautions, and a specialized infrastructure designed to keep kids safe. Hundreds of experts, called R21 PROs, from hundreds of fields have been invited to interact with kids. They include explorers, artists, ecologists, business executives, entertainers, scientists, engineers, nurses, doctors, educators, and more – people who do some of the amazing things kids dream of doing.
Like Rocket21 on Facebook and Follow @Rocket21 on Twitter. For more information about Rocket21, please contact Media Relations at media(at)rocket21(dot)com.
About West Coast Songwriters is a 501(c)3 nonprofit educational organization.
Founded in 1979, WCS has grown into one of the most active music associations in the USA, offering more than 25 events per month. Whether the goal is personal expression or to make a living in the music industry, knowing how to write or recognize a well crafted song is the key to success. At WCS, members establish important relationships, both professionally and personally, that enhance and accelerate their development. Music ceases to be a solitary pursuit and becomes a shared endeavor through the focus, feedback, collaboration, contacts/networking and support that WCS provides.
Like West Coast Songwriters on Facebook and Follow @WCSong on Twitter. For more information, please contact Ian Crombie at ian(at)westcoastsongwriters(dot)org.
###