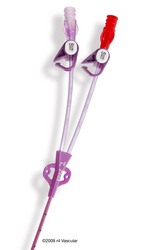 Maple Grove, MN (Vocus) July 1, 2009
A novel coating being used on a new peripherally inserted central catheter (PICC) from r4 Vascular mimics the cell layer found on natural tissue surfaces. r4 Vascular designed the catheter to have a biomimetic surface that mimics the natural glycocalyx layer on endothelial tissues. Laboratory tests prove that mimicking the glycocalyx layer can dramatically reduce thrombus formation on the catheter surfaces.
r4 Vascular recently gained FDA clearance to launch their first catheter based on this Biomimetic technology. It will be available beginning June 30, 2009 as the Zeus™ Coated CT PICC.
According to Gail Sansivero, MS, ANP, Vascular and Interventional Radiology Nurse Practitioner, Albany Medical Center, "Thrombus can be a real problem for patients with PICCs. Biologically, a patient responds to a catheter insertion within 24 hours by developing bio-film. Thrombus can later amass on the catheter surface, within the catheter and/or become adherent to the vein. The thrombus can cause catheter occlusion, serve as a nidus for infection, and even dislodge into the bloodstream, putting patients at risk for deep vein thrombosis (DVT) or pulmonary embolism (PE)."
Today, clinicians typically try to avoid thrombus occlusion by instilling heparin into catheters between uses. However, many patients are allergic to heparin, which can cause heparin-induced thrombocytopenia (HIT). Some PICC manufacturers have addressed the thrombus problem by affixing valves to their catheters, which can limit placement methods and reliable blood sample withdrawal through the catheter. r4 Vascular engineers took a cue from stealth technologies instead, approaching the problem by camouflaging the catheter in a Biomimetic coating. Laboratory testing has shown the coating to be so effective that it is the first nonvalved PICC to receive FDA clearance for saline-only maintenance.
According to r4 Vascular's CEO, Michael Sarajian, "In speaking with PICC clinicians, we learned that valved PICCs can be difficult to place and unreliable in use. By approaching the thrombus problem scientifically, r4 has developed a nonvalved PICC that enables over-the-wire placement and reliable blood draws while reducing thrombus formation for a longer service life."
r4 Vascular is a privately-held vascular access company driving innovation in vascular access medical technology. r4's passion is "uncomplicating" venous access, chemotherapy, and drug delivery, through product improvements that help catheters remain patent and effective, with reduced risk of complications.
John Zawacki
r4 Vascular, Inc.
763-494-8400
Fax: 763-494-8484
http://www.r4vascular.com
###