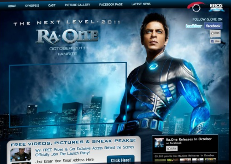 Ra 1 - Shah Rukh Khan
Mumbai, India (PRWEB) August 04, 2011
Ra 1 filming is finally over and the King of Bollywood, Shah Rukh Khan decided to throw a big party to celebrate the hard work the entire team has put in.
From dancing on tables to cutting an amazing cake, Shah Rukh Khan had a great time at the Mumbai nightclub, Escobar. SRK was joined at this party by his wife, Gauri Khan and of course his gorgeous co-start Kareena Kapoor.
Famous directors, Karan Johar and Tarun Mansukhani were also present for the party and they have recently had a role in helping direct certain scenes of Ra One.
It's reported many of Bollywood's greatest were invited, but some could not make it because of their schedule conflicts. The most missed was of course co-star of Ra.One, the actual person who plays Ra.One role – Arjun Rampal.
Arjun tweeted:
"In Bangkok for Rascals, missed the RA 1 wrap party cause was on flight, want to thank the whole team, for the special film,"
SRK also tweeted that it was time for heart-break now that the wrap-up party was finished knowing that he'd have to start removing and snipping scenes in post-production of a project he loved.
Shah Rukh Khan tweeted:
"film shoot over...wrap party wrapped...now the labour of love is in the operation theater. snip..cut..edit...to get her all well honed and toned. how sad it is to remove parts of something u love so much. heartbreak time !!!"
Ra 1 is being called Bollywood's most expensive production in history of the industry. This movie is also Bollywood's first science fiction movie with a super-hero (G.One which stands for The Good One).
The movie is reported by SRK as having been a labor of love but also very hard work that took months and months to plan and execute on. The wrap-up party was a great milestone for the entire team as they had been filming the movie for quite some time and even traveling to various counties (such as London) to film.
Ra 1 is being called the most highly anticipated movie launch in history as is easily seen by the great buzz around social media on the Internet. Shah Rukh Khan released the first trailer of it back in March even though the movie is expected to release on October 26th.
You can grab exclusive pictures and more information about Ra 1, the movie launch and specifically pictures of the wrap-up party at http://www.RaOneSite.com
###