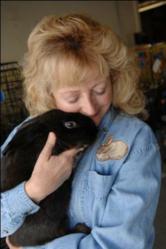 Before adopting a rabbit, it's important to first learn all about these wonderful creatures and what they need to become a happy, well-adjusted family member. Most important, don't make an impulse buy from a pet store or online.
Kanab, UT (Vocus/PRWEB) March 31, 2011
Animal rescue organizations across the country are bracing for their much-dreaded, annual Easter bunny-fueled impulse buying spree which, unfortunately, is followed by the systematic discarding of those same bunnies when Easter has passed.
And this year, which is the Chinese Zodiac Year of the Rabbit, worries are even more pronounced because of this weekend's much-publicized release of the family movie, "Hop."
"Sadly, rabbits are now the third most abandoned animal at shelters, and countless others are released to fend for themselves, but often become an unfortunate addition to a predator's lunch," said Debby Widolf of the national animal welfare organization, Best Friends Animal Society®
Widolf, who manages the rabbit department at Best Friends Animal Society's sprawling sanctuary in Kanab, Utah, is concerned that the Friday release of "Hop" will inspire people to run out and buy a rabbit from a local pet store or make an online purchase—without doing the critical research to find out if a rabbit is the best choice for their family pet.
"If you decide that a rabbit would be a welcome addition to your family, why not rescue a homeless bunny by adopting from a rabbit rescue or shelter?" asks Widolf. "But before adopting, it's important to first learn all about these wonderful creatures and what they need to become a happy, well-adjusted family member. Most important, don't make an impulse buy from a pet store or online."
Just one year ago, Best Friends Animal Society joined other rabbit rescue groups in 2010 for the first-ever, large-scale, trap-neuter-return (TNR) program for literally dozens of abandoned pet rabbits that had populated the campus of Long Beach City College.
"Most cities and townships turn to lethal means of controlling the rabbits, taking innocent lives and using tax payer dollars to fund the cost of extermination," said Widolf. "But Long Beach City College and a small group of teachers, students and neighbors decided to find a humane way of taking care of their campus rabbits. With the expertise of Best Friends and other rescue groups they decided to do a trap-neuter-return program, similar to programs for feral cats, where free-roaming rabbits are trapped, then sterilized before being returned to their original locations.
"This TNR program for was a ground-breaking effort by a group of committed people who cared about rabbits. Now, after 13 months, all the campus rabbits have been spayed/neutered."
Seventy-five rabbits were returned to campus, 170 were adopted, and approximately 70 are still waiting for that special home, Widolf said.
She points out that rabbits can be wonderful companions, calling them "intelligent, interactive and curious little guys."
But before adopting one, she asks families to consider these important points:
1. Rabbits can live eight to 10 years, which makes adoption a substantial commitment. They require regular vet care, and because not all veterinarians treat rabbits or know much about them, it might be necessary to take a rabbit to an exotic animal vet. Just like human specialists, they can be more expensive and harder to find.
2. Children often want a rabbit to cuddle and carry, but kids are often disappointed to learn that the last thing a bunny wants is to be picked up. Rabbits are prey animals and picking them up might signal that "something is going to carry me away and eat me. Yikes!" Rabbits have strong claws and will kick and bite if frightened. The backs of rabbits are delicate, so mishandling or dropping a rabbit can cause serious injury. A pet rabbit may not be a good idea for a child under eight or nine years old.
3. Rabbits are happiest in a home when they can be part of the family, enjoy their people and be who they are—rabbits.
4. Rabbits should be spayed or neutered by a rabbit-knowledgeable veterinarian to prevent serious health problems, help the bunny be a better friend, and, of course, prevent unwanted births. It is quite difficult to determine the sex of young rabbits. Male rabbits are ready to be neutered at around 10 weeks of age, while females can be spayed at the age of five months.
5. Prior to bringing a rabbit home, one should bunny-proof the house. Rabbits love to chew, so cover up or hide the computer and phone cords. Happily, rabbits can be trained to use a litter box, but remember that they need regular cleaning. And, of course, rabbits also need fresh water, food and hay daily.
6. Rabbits are unhappy and suffer when they are isolated from their people. They need interaction, bunny toys to play with, and plenty of daily exercise.
To learn more about rabbits, please go to the Best Friends website: http://www.bestfriends.org and check out the House Rabbit Society's website: http://www.rabbit.org.
Video
The Bunny House at Best Friends Animal Society: http://www.youtube.com/watch?v=uIEZat1GM7o
About Best Friends Animal Society®:
Best Friends Animal Society is a nonprofit organization building no-kill programs and partnerships that will bring about a day when there are No More Homeless Pets®. The society's leading initiatives in animal care and community programs are coordinated from its Kanab, Utah, headquarters, the country's largest no-kill sanctuary. This work is made possible by the personal and financial support of a grassroots network of supporters and community partners across the nation.
To become a fan of Best Friends Animal Society on Facebook: http://www.facebook.com/bestfriendsanimalsociety
To follow Best Friends on Twitter: http://twitter.com/BFAS
###